Kambari
Kambari is a member of the Kainji branch of Altantic-Congo language spoken in Nigeria by about 650,000 people. There are three varieties of Kambari: Agwara Kambari, Salka Kambari and Auna Kambari.
Kambari alphabet and pronunciation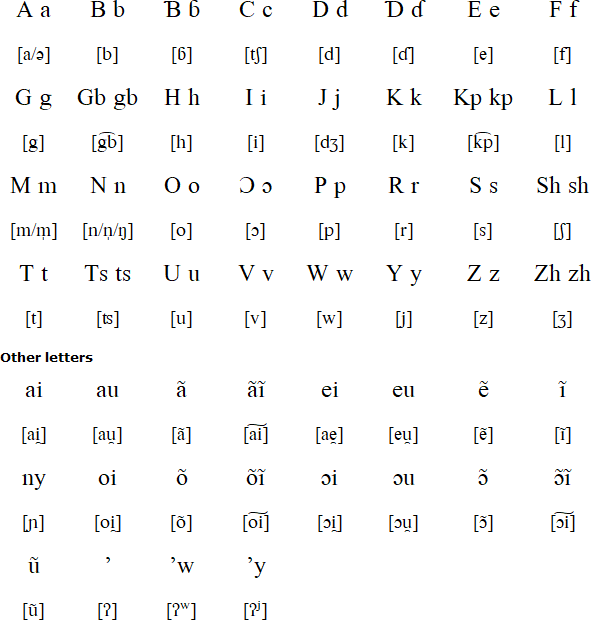 Source: http://www.sil.org/
Sample text
Kaza̱i ka Aminya
Kaza̱i ka aminya ka roku ka pini a Ndazu. La u wusha baci aminya a ama, aku u bana aga̱ta̱ u ba u za̱sa̱. U za̱ baci, aku u wecikpe a ɗa pini a aga̱ta̱ yi. U laza u a̱sa̱ka̱ a ɗa pini, bawu uza ha wa wundika yi. Kain dem nala.
Translation
The Clothes Washer
There was once a clothes washer in Ndazu town. He would receive people's clothes, then he would go to the river and wash them. When he had washed them, then he would spread them beside the river to dry. He would leave them there without anyone to watch them for him. Every day he did like that.
Source: http://www.sil.org/resources/publications/entry/9246
Information about Kambari provided by Michael Peter Füstumum
Links
Information about the Kambari language
https://en.wikipedia.org/wiki/Kambari_languages
http://www.rogerblench.info/Language/Niger-Congo/BC/Kainji/Kambari/KmbOP.htm
Atlantic-Congo languages
Bandial, Efik, Ibibio, Kambari, Laalaa, Mankanya, Mbum, Noon, Supyire, Yemba
Other languages written with the Latin alphabet