Laalaa
Laalaa is a member of the Cangin branch of Niger-Congo languages and is spoken in the Laa (Lehar) region of of Senegal by about 12,000 people. It is also known as Lehar, and is closely related to Noon, and also to Ndut, Palor and Saafi.
Laalaa alphabet and pronunciation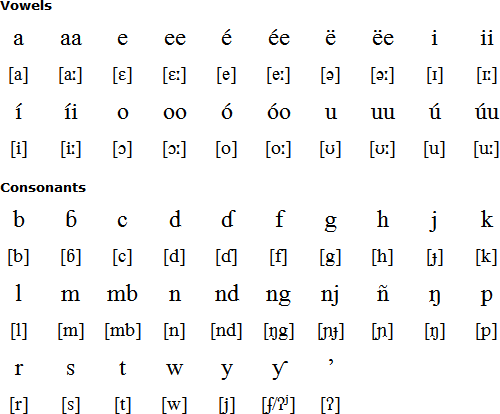 Ƴ is pronounced [ʄ] at the beginning or in the middle of words, and [ʔʲ] at the end of words.
Sample text in Laalaa
Kíiskaakër, eníi a' we yakaak ga ndumbelaan. Ga raɓcaa luufaa ɓeeɓ yaa baal woníi kason. Sahcaa ye karoan kaɓeetaa ɓeeɓ, ye sooy. Ye pesooy tejakal, tíbíl na temboot. Ye kaɗa bii ye yooyya lool.
(Baal na pe' caa caammodaa)
Details of Laalaa supplied by Michael Peter Füstumum
Links
Information about the Laalaa language
https://en.wikipedia.org/wiki/Laalaa_language
http://www.ethnologue.com/language/cae
Altantic-Congo languages
Bandial, Efik, Ibibio, Kambari, Laalaa, Mankanya, Mbum, Noon, Supyire, Yemba
Other languages written with the Latin alphabet