Safen (Saafi-Saafi)
Safen is a member of the Cangin branch of the Senegambian language family. It is spoken in Senegal, especially around Dakar in the Thies Region, and there were 200,000 speakers in 2012.
Safen is also known as Saafi, Safen, Safi, Safi-Safi, Sereer Saafen, Serer-Safen or Serere-Saafen. Dialects include Boukhou, Diobass, Hasab, Sebikotane and Sindia.
Safen is written with the Arabic or the Latin alphabet.
The Latin alphabet for Safen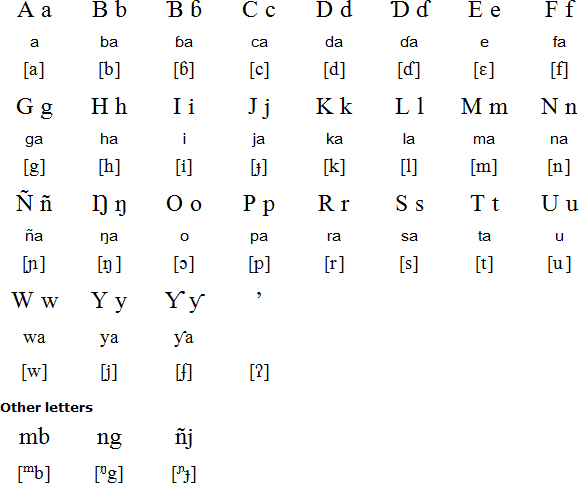 Long vowels are doubled.
Download alphabet chart for Safen in Excel or PDF format.
Sample text
Kooɗkiɗiŋ rehi
Diski kurki nik, wa raakiɗ taŋgo na oonoon. Taŋgooci ca raakiɗ kac na atoh. Ŋoonoon ci, merehmiŋ, kehci w-a baahiɗ. Wa beeñ. Baabiŋ Jileen yii kooɗkiɗ rehi. A ɓayiɗ ndaŋg, gup, yul na sarto haɓiɗoha yoohon ca.
Translation
The preparation of the rainy season
The place the town is located, there are hills and a valley. The hills, they have laterite pebbles and rocks. The sand in the valleys is good earth. It is sandy. Jileen's father is preparing for the rainy season. He takes a machete, a hoe, a creusette, and a sickle to the fields to prepare them.
Source: A Grammatical Sketch of Saafi by Juliet Stanton. Indiana University. 2011.
Details of the Safen alphabet supplied by Wolfram Siegel. Sample text and notes provided by Michael Peter Füstumum
Links
Information about Safen
https://en.wikipedia.org/wiki/Safen_language
https://www.ethnologue.com/language/sav
http://silsenegal.org/en/Saafi-saafi
Atlantic-Congo languages
Bandial, Efik, Ibibio, Kambari, Laalaa, Mankanya, Mbum, Noon, Safen, Supyire, Yemba
Other languages written with the Latin alphabet