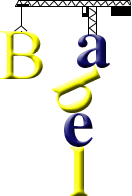 The Tower of Babel (Genesis 11: 1-9)
Rumantsch Grischun (Romansch Grischun)
Turr da Babel a confusiun dils linguaigs
Mo lura haveva tut il mund in plaid ad in linguaig.
Ad ei daventà, ca els, partint da la damaun, afflanan ina planira en la terra da Sinear, ad avdanan lou;
A schenan in ancunter 'l auter: Mai lou! Nus volein paregiar ad arder tegulas. Ad els prendenan tegulas par crappa, ad arschilla par caltschina.
Ad els schenan: Pir lou! nus volein edificar in mercau ad ina turr, il piz da la quala tonschi antrocan sin tschiel, par ca nus fargeien á nusez in num, avont ca forsa vegnir spatatschai par tutta la terra.
Mo il Segner descendet, par mirar quei mercau a la turr, ca ils figls dils carstiauns edificavan.
Ad il Segner schet: Mire igl ei in pievel ad in linguaig denter els tuts, a quei han els antschiett á far; ad els vegnan buc ad esser impedî da far tut quei ca els interprendan.
Pir lou! nus volein descender a lou confunder lur linguaig, ca nagin intelligi il linguaig da 'l auter.
Aschia ils spatatschà il Segner da lounavend par tuttas las terras, ad els stovenan calar de edificar il mercau.
Da counou il han ei numnau Babel, damai ca il Segner ha lou confundiu il linguaig da tutta la terra, ad ils spatatschau da lou en tuttas terras.
Source: La Bibla U La Sontga Scartira Dil Veder A Niew Testament Vertida En Romonsch Da La Ligia Grischa. Stampau á Francfort al Main. Sin Ordinaziun ad á Cust da la Societad Biblica Britannica ad Externa. Anno M.DCCC.LXX (1870).
Romansch Engadine
La tuor da Babilon
Ma'l muond inter avaiva be üna lingua e'ls medems pleds.
E partind da l'oriant chattettan ils uman üna planüra aint il pajais da Sinear, ed els as domiciliettan là.
Ed els dschettan l'ün a l'oter: Tschà, fain quadrels e'ls ardain a dür! Uschè als servivan ils quadrels per crappa, e l'ardschiglia als serviva per molta.
Ed els dschettan: Sü, fabrichain üna cità ed üna tuor chi tendscha cun seis piz fin sün tschêl; e nus vulain far ün monumaint, per cha nus nun ans sperdan sur l'intera terra via.
E'l Segner descendet da tschêl per contemplar la cità e la tuor cha'ls figls dals crastians avaivan edifichà.
E'l Segner dschet: I sun ün pövel ed han tuots la medemma lingua.
E quaist ais be il principi da lur far. Uossa nu'ls sarà inguotta impussibel, che eir ch'els pigliaran per mans.
Ebain, schi decendain e mettain sgurdin in lur lingua, ch'ingün nun inclegia plü la lingua da l'oter!
Uschè ils sparpagliet il Segner da là sur l'intera terra via, da möd ch'els stuvettan desister dad edifichar la cità.
Perquai as nomna ella Babilon (sgurdin), pervia cha'l Segner ha sgurdinà là la lingua dal mound inter e'ls ha sparpagliats da là sur l'intera terra via.
Source: La Soncha Scrittüra. Vegl e Nouv Testamaint. Ediziun Tras Ils Colloquis D'Engiadina, 1980.
Contributed by Wolfgang Kuhl
Information about Romansh | Phrases | Numbers | Tower of Babel
Tower of Babel in Romance languages
Aragonese, Aromanian, Asturian, Catalan, Corsican, French, Galician, Italian, Ladino, Latin, Portuguese, Romanian, Romansh, Sicilian, Spanish, Valencian
Other Tower of Babel translations
By language | By language family
---
If you need to type in many different languages, the Q International Keyboard can help. It enables you to type almost any language that uses the Latin, Cyrillic or Greek alphabets, and is free.
If you like this site and find it useful, you can support it by making a donation via PayPal or Patreon, or by contributing in other ways. Omniglot is how I make my living.
Note: all links on this site to Amazon.com
, Amazon.co.uk
and Amazon.fr
are affiliate links. This means I earn a commission if you click on any of them and buy something. So by clicking on these links you can help to support this site.