The Tower of Babel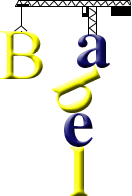 Português (Portuguese)
Ora, toda a terra tinha uma só língua e um só idioma.
E deslocando-se os homens para o oriente, acharam um vale na terra de Sinar; e ali habitaram.
Disseram uns aos outros: Eia pois, façamos tijolos, e queimemo-los bem. Os tijolos lhes serviram de pedras e o betume de argamassa.
Disseram mais: Eia, edifiquemos para nós uma cidade e uma torre cujo cume toque no céu, e façamo-nos um nome, para que não sejamos espalhados sobre a face de toda a terra.
Então desceu o Senhor para ver a cidade e a torre que os filhos dos homens edificavam;
e disse: Eis que o povo é um e todos têm uma só língua; e isto é o que começam a fazer; agora não haverá restrição para tudo o que eles intentarem fazer.
Eia, desçamos, e confundamos ali a sua linguagem, para que não entenda um a língua do outro.
Assim o Senhor os espalhou dali sobre a face de toda a terra; e cessaram de edificar a cidade.
Por isso se chamou o seu nome Babel, porquanto ali confundiu o Senhor a linguagem de toda a terra, e dali o Senhor os espalhou sobre a face de toda a terra.
Português do Brasil (Brazilian Portuguese)
Toda terra era uma única língua e palavras únicas.
Vindo do Oriente, encontraram uma planície na terra de Sinear, onde se estabeleceram.
E disseram cada um ao companheiro: Vem! Fabriquemos tijolos e vamos cozê-los ao fogo. E o tijolo foi para eles pedra, e o betume foi para eles argamassa.
Em seguida disseram: Venham! Vamos edificar para nós uma cidade e uma torre, cuja ponta penetre nos céus. E façamos para nós um nome para que não sejamos dispersos sobre a face da terra.
E Javé desceu para ver a cidade e a torre que os filhos da humanidade tinham construído.
E Javé disse: Veja! Um único povo e uma única língua para todos eles. E este é o início do seu empreendimento e agora não será impossível para eles que tudo o que planejam possa ser realizado.
Vamos! Desçamos e confundamos sua linguagem a fim de que um homem não compreenda a língua do seu vizinho.
E Javé os dispersou daquele lugar sobre a face de toda a terra e eles pararam de construir a cidade.
Este lugar foi chamado de "Babel", porque aí Javé confundiu a linguagem de toda terra, e os dispersou daquele lugar sobre a face de toda a terra.
Translated by: João Vicente Iannone de Souza
Listen to a recording of this text by Heitor de Moraes from São Paulo, Brazil
Information about Portuguese | European Portuguese phrases | Brazilian Portuguese phrases | Family words | Numbers | Time | Tongue twisters | Tower of Babel | Articles | Links | Learning materials
- Learn Portuguese online with Portuguese Pod101
- Learn Portuguese online for free with Mondly
- Rocket Portuguese
- Grammar Hero Portuguese - Internalise Portuguese Grammar
- Learn Portuguese online
- Portuguese electronic dictionaries and translators
- Portuguese learning software
- Language tutors anytime, anywhere at Lingo-Live.com
- Learn Portuguese with Glossika

Tower of Babel in Romance languages
Aragonese, Aromanian, Asturian, Catalan, Corsican, French, Galician, Italian, Ladino, Latin, Portuguese, Romanian, Romansh, Sicilian, Spanish, Valencian
Other Tower of Babel translations
By language | By language family
---
If you need to type in many different languages, the Q International Keyboard can help. It enables you to type almost any language that uses the Latin, Cyrillic or Greek alphabets, and is free.
If you like this site and find it useful, you can support it by making a donation, or by contributing in other ways. Omniglot is how I make my living.
Note: all links on this site to Amazon.com
, Amazon.co.uk
and Amazon.fr
are affiliate links. This means I earn a commission if you click on any of them and buy something. So by clicking on these links you can help to support this site.