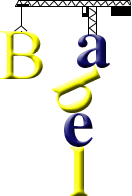 The Tower of Babel (Genesis 11: 1-9)
Lingua Latina (Latin)
erat autem terra labii unius et sermonum eorundem
cumque proficiscerentur de oriente invenerunt campum in terra Sennaar et habitaverunt in eo
dixitque alter ad proximum suum venite faciamus lateres et coquamus eos igni habueruntque lateres pro saxis et bitumen pro cemento
et dixerunt venite faciamus nobis civitatem et turrem cuius culmen pertingat ad caelum et celebremus nomen nostrum antequam dividamur in universas terras
descendit autem Dominus ut videret civitatem et turrem quam aedificabant filii Adam
et dixit ecce unus est populus et unum labium omnibus coeperuntque hoc facere nec desistent a cogitationibus suis donec eas opere conpleant
venite igitur descendamus et confundamus ibi linguam eorum ut non audiat unusquisque vocem proximi sui
atque ita divisit eos Dominus ex illo loco in universas terras et cessaverunt aedificare civitatem
et idcirco vocatum est nomen eius Babel quia ibi confusum est labium universae terrae et inde dispersit eos Dominus super faciem cunctarum regionum
Hear a recording of this text by Matthew Leigh Embleton
Vulgar Latin
Hac hora, tota terra fabulabat una sola lingua et usabat metipsas parábolas.
Dum ínterim hómines de oriente migrabant, invenirunt unu planu in terra de Babylone et ibi se stabilirunt.
Ei cominitiarunt unus ad altru dícere, "Venite, quod faciamus lateres et eos duremus cum igne. Et ei usabant lateres pro petras et bitúmine pro cementa.
Illa hora dixerunt, "Venite, quod nos edificemus nobis una civitate et una turre cuius àpice attingit celos. Nos nobis fàcere habemus unu bonu nómine, ne nos stemus super tota terra dispersi."
Magis Dóminus descendit, civitate et turre quod edificabant hómines pro videre.
Et Dóminus dixit, "Ecce, pópulus est iunctus, et omnis metipsa lingua fábulant. De ex post hoc, ei posse habetis áliquod quod volent fácere!"
Venite, quod descendamus et confundamus eora lingua, quod unus non altru intélligat.
Sic Dóminus eos dispersit de ex inde super tota terra, et ei cessarunt civitate edificare.
Hoc est quare ille locus est nominátus Babel, pro quod ibi est ubi Dóminus confundáut pópulu cum diversa lingua. In hic modo Dóminus eos dispersit super tota terra.
Late Vulgar Latin (Proto-Romance)
Acora, tota illa terra fablabat una sola lingua et usabat illas metissimas parablas.
Dumintre illi omnes migrabant de illo oriente, troparunt unu planu in illa terra de Babylone et ibi se stablirunt.
Ipsi comintiarunt unus ad altru dícere, "Venite, quid faciamus lateres et los duremus cum foco . Et ipsi usabant lateres por petras et bitúmine por cementa.
Illora disserunt, "Venite, quid nos edificemus nois una ciutate et una turre cuius àpice attingit illos celos. Nos nois facerabemus unu bonu nomne, ne nos stemus dispersi supre tota illa terra."
Mais Domnus descendit por videre ipsa ciutate et ipsa turre quid edificabant omnes.
Et Domnus dissit, "Ecce, ille poplus est juntus, et onnis fablant illa metissima lingua. Dexpost eccuiste, ipsi potrabetis facere alquid quid volent!"
Venite, quid descendamus et confundamus issora lingua, quid unus non altru comprendat.
Sic Domnus sos dispersit dessinde supre tota illa terra, et ipsi cessarunt edificare ipsa ciutate.
Hoc est quare eccuille locus est nominatus Babel, por quid ibi est ubi Domnus confundáut ipsu poplu cum diversa lingua. In eccuisto modo Domnus sos dispersit supre tota illa terra.
Vulgar Latin and Late Vulgar Latin translation provided by Scott Johnson
Latin alphabet | Latin language | Phrases | Numbers | Time | Tower of Babel | Articles | Learning materials
Tower of Babel in related languages
Aragonese, Aromanian, Asturian, Catalan, Corsican, French, Galician, Italian, Ladino, Latin, Portuguese, Romanian, Romansh, Sicilian, Spanish, Valencian
Other Tower of Babel translations
By language | By language family
---
If you need to type in many different languages, the Q International Keyboard can help. It enables you to type almost any language that uses the Latin, Cyrillic or Greek alphabets, and is free.
If you like this site and find it useful, you can support it by making a donation, or by contributing in other ways. Omniglot is how I make my living.
Note: all links on this site to Amazon.com
, Amazon.co.uk
and Amazon.fr
are affiliate links. This means I earn a commission if you click on any of them and buy something. So by clicking on these links you can help to support this site.