East Cree (ᐄᔨᔫ ᐊᔨᒨᓐ / Îyiyû Ayimûn)
East Cree is a Cree language spoken by about 13,000 people in northern Quebec in Canada. In particular, it is spoken in the James Bay region and on the east coast of Hudson Bay. It is the language of the Cree Nation of Chisasibi, the Cree Nation of Wemindji and la Première nation de Whapmagoostui.
East Cree is also known as Eastern James Bay Cree, East Main Cree, Eastern James Bay Cree Northern Dialect, James Bay Cree, James Bay Cree Northern.
There are two groups of dialects: northern dialects and southern dialects. Northern dialects (ᐄᔨᔫ ᐊᔨᒨᓐ / Îyiyû Ayimûn) are spoken in Wemindji, Chisasibi and Whapmagoostui. Southern dialects (ᐄᓅ ᐊᔨᒨᓐ / Înû Ayimûn) are spoken in Nemaska, Waskaganish, Eastmain, Mistissini, Oujé-Bougoumou, Waswanipi and Nemaska.
They are all more or less mutually intelligible, although the greater the distance between communities, the more difficult they find it to understand each other.
Eastern Cree Syllabics are used to write East Cree. The Latin alphabet is also used. It is taught in primary schools, used on the radio, and there is a dictionary, grammar and a translation of the New Testament in East Cree.
Latin alphabet for East Cree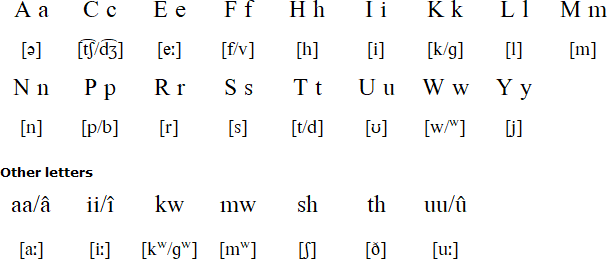 Notes
Between vowels c = [ʤ], k = [g], kw = [gʷ] p = [b] and t = [d]
f, l, r and th are used mostly in loanwords and names
East Cree syllabics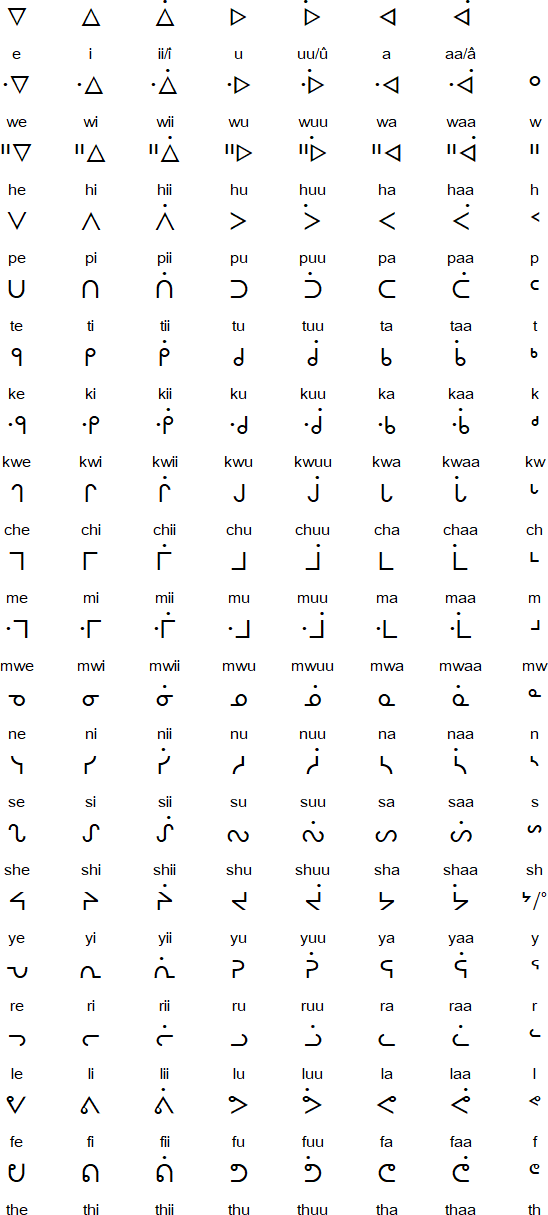 Download script charts for East Cree (Excel)
Details provided by Wolfram Siegel
Sample text (Northern dialect)
ᓈᐹᐤ ᐃᔅᑭᓂᑎᐱᔅᑳᐤᐦ ᑳ ᐱᐹᓈᓂᓯᓂᐧᐋᑦ ᐊᑎᐦᒄᐦ᙮ ᑳ ᐅᒋᐦᐱᑖᑦ ᒫᒃ ᐊᓂᑖᐦ ᒫᐧᑳᒡ ᐋ ᐃᐧᐋᔑᔨᐦᒡ᙮ ᑳ ᐧᑳᒋᒫᑦ ᐊᓐ ᓈᐹᐤ; ᒑᐧᑳᓐ ᐧᐋᐦᒋ ᐃᔨᑎᐱᔮᒄ? ᓃᔨ ᐧᐄ ᐋᔥᒄ ᓂᐱᐦ ᐱᐹᒥᐱᐦᑖᓐ᙮
Translation
A man chasing the caribou all night long and made them tired. As he arrived to the area where the caribou were resting from running the man talks to the caribou and asks them `Why are you doing sitting down? If I were you I would still be running.
Source: https://www.eastcree.org/cree/en/stories/
Sample text (Southern dialect)
ᓈᐯᔥ ᑳ ᐅᑎᓂᑯᑦ ᑳᑰᔥ ᒣᐧᑳᒡ ᐁ ᓂᑖᒥᓱᔨᒡ ᐅᑳᐧᐄ ᐊᓂᑌᐦ ᐧᐄᐧᐄᑕᒥᐦᒡ᙮ ᐁ ᒌ ᒣᒣᐱᑖᑦ ᒥᔥᑎᑯᒡ ᐯᔓᒡ ᐊᓂᑦᐦ ᐁ ᓂᑕᒥᓲᑦ ᐁᑯᑦᐦ ᑳ ᐅᐦᒋ ᐧᐃᓂᐦᐋᑦ, ᐁᑯᐦ ᑳ ᐧᐄᒋᒫᑦ ᐊᓂᔫᐦ ᒋᔐᔮᒄᐦ᙮
Translation
A baby boy who was taken by a bear while his mom was blueberry picking. She had put the baby in a hammock near where she was picking berries and lost her baby boy from there. The boy lived with the bears.
Source: https://www.eastcree.org/cree/en/stories/
Sample video about East Cree
Links
Information about East Cree
https://en.wikipedia.org/wiki/East_Cree
https://www.ethnologue.com/language/crl
https://www.ethnologue.com/language/crj
https://carleton.ca/anako/2018/east-cree-language-resources/
https://www.mun.ca/cclas/east-cree/
Eastern James Bay Cree Dictionary
https://dictionary.eastcree.org/
Algonquian languages
Abenaki
,
Algonquin
,
Arapaho
,
Atikamekw
,
Blackfoot
,
Cheyenne
,
Chippewa
,
Cree (East)
,
Cree (Moose)
,
Cree (Plains)
,
Cree (Swampy)
,
Cree (Woods)
,
Fox
,
Innu (Montagnais)
,
Kickapoo
,
Malecite-Passamaquoddy
,
Loup
,
Massachusett (Wampanoag)
,
Menominee
,
Miami
,
Míkmaq
,
Mohegan
,
Mohican
,
Munsee
,
Narragansett
,
Naskapi
,
Ojibwe
,
Oji-Cree
,
Ottawa
,
Penobscot
,
Powhatan
,
Potawatomi
,
Quiripi
,
Sauk
,
Shawnee
,
Unami (Lenape)
Blackfoot, Carrier, Chipewyan, Cree (East), Cree (Moose), Cree (Plains), Cree (Woods), Inuktitut, Naskapi, Ojibwe, Oji-Cree
Languages written with the Latin alphabet
Page created: 30.11.22. Last modified: 30.11.22
[top]
---

Why not share this page:

If you like this site and find it useful, you can support it by making a donation via PayPal or Patreon, or by contributing in other ways. Omniglot is how I make my living.
Note: all links on this site to Amazon.com
, Amazon.co.uk
and Amazon.fr
are affiliate links. This means I earn a commission if you click on any of them and buy something. So by clicking on these links you can help to support this site.
Get a 30-day Free Trial of Amazon Prime (UK)
If you're looking for home or car insurance in the UK, why not try Policy Expert?
[top]