Moose Cree (ᐃᓕᓖᒧᐧᐃᓐ / ililîmowin)
Moose Cree is a Central Algonquian language spoken by about 150 people mainly in Moose Factory, a town on Moose Factory Island at the south end of James Bay in the Cochrane District of Ontario in central Canada. It is spoken mainly by older people, while children and younger adults are more likely to use English.
Moose Cree is also known as West Main Cree, West Shore Cree, York Cree or Cri de Moose. The native name is ᐃᓕᓖᒧᐧᐃᓐ (ililîmowin). The name Moose Cree comes from Môsoniy (Moose Island) or Môso-sîpiy (Moose River).
The Language & Culture department of the Moose Cree First Nation undertakes various initiatives to revitalize the language, including language emersion camps, and producing a dictionary, grammar and a language learning app (available from the Apple Store).
Eastern Cree Syllabics are usually used to write Moose Cree. The Latin alphabet is also used. It was first written in the 1850s, and there is a translation of the New Testament in the language.
Moose Cree syllabics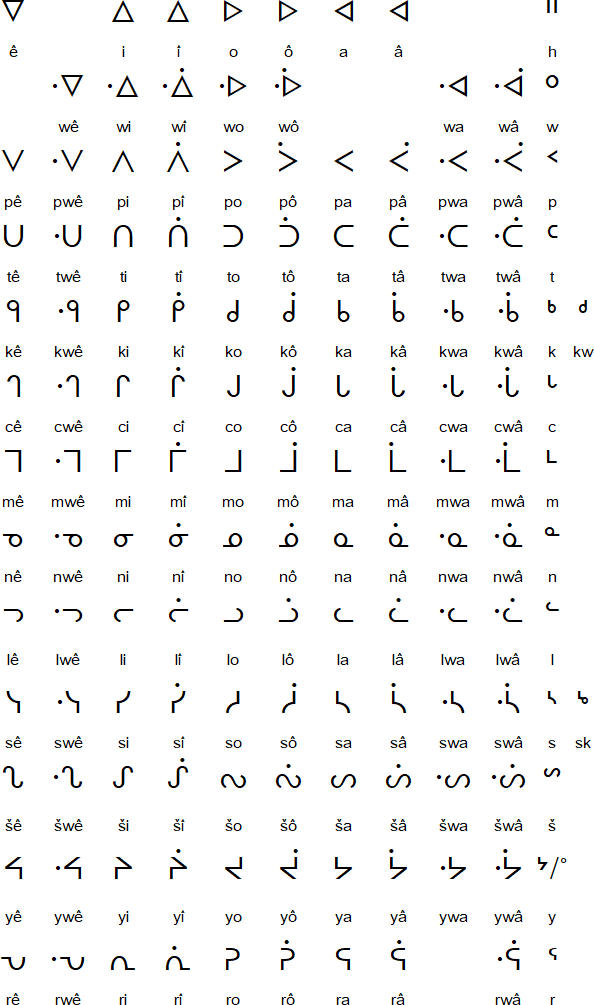 Notes
The final y is written above the preceeding symbol, e.g. ᐋᣁ (āšay - now).
Latin alphabet for Moose Cree

Notes
f and th are only used in loanwords from English.
Download script charts for Moose Cree (Excel)
Sample text
ᐅᒪ ᐊᑕᓗᑫᐎᓐ ᐊᓕᒧᒪᑲᓋᓐ ᓇᐯᐤ ᐎᓴᑫᒐᒃ ᐁ ᐃᔑᓂᑲᓱᑦ᙮ ᑭᒋ ᐌᔅᑲᒡ ᒪᑲ, ᑭ ᐃᑕᑯᐸᓐ ᓇᐯᐤ ᐎᓴᑫᒐᒃ ᐁ ᐃᔑᓂᑲᓱᑦ᙮ ᐎᓇ ᒪᑲ ᒪᐗᒡ ᑭ ᑲᔅᑯᑯᐸᓐ ᐁ ᒪᒪᑕᐎᔑᒋᑫᑦ ᑲ ᑭ ᑕᔑᒋᒃ᙮ ᑭᒥᓜᓕᑕᒻ ᐁ ᒣᑕᐌᑦ ᐁ ᒪᑕᐅᑐᑕᒃ ᒪᐃᑲᓇ ᐅᒋ ᓀᔅᑕ ᐊᑎᒶ᙮ ᐌᔅᑲᒡ ᒪᐃᑲᓇᒃ ᓀᔅᑕ ᐊᑎᒶᒃ ᒧᓇ ᐅᒋ ᐱᑐᔑᓇᑯᓯᐗᒃ᙮ ᐯᔭᑾᓄᒃ ᑭᑕᔑᑫᐗᒃ ᓀᔅᑕ ᑭ ᒪᒪᐎ ᑕᔑᑫᐗᒃ ᑎᐱᓚᐌ ᐅᐗᑎᒧᐗᒃ᙮ ᐯᔭᑾ ᐁ ᑭᔑᑲᒃ, ᐎᓴᑫᒐᒃ ᐱᒧᑌᑯᐸᓐ ᓚᓕ ᓴᑲᐃᑲᓂᒃ ᐁ ᑲᓇᐗᐸᒪᑦ ᓇᓇᑲᐤ ᐱᓓᓱᐗ ᐊᓂᑭ ᑐᐗᒃ ᔑᔑᐸᒃ ᓀᔅᑕ ᓂᔅᑲᒃ᙮ ᑭ ᐃᑕᐤ ᐱᑯ ᐊᓐᑕ ᐁᑲᓇᐗᐸᒪᑦ᙮ ᒧᓇ ᐅᒋ ᐎᑲᑴᓂᐸᔦᐤ ᔕᑯᒡ ᒧᓇ ᐅᒋ ᔑᐗᑌᐤ᙮
Source: http://www.languagegeek.com/algon/cree/mcr_example.html
Transliteration
oma atalokêwin alimomakanwan napêw wisakêcak ê išinikasot. kici wêskac maka, ki itakopan napêw wisakêcak ê išinikasot. wina maka mawac ki kaskokopan ê mamatawišicikêt ka ki tašicik. kimilwêlitam ê mêtawêt ê mataototak maikana oci nêsta atimwa. wêskac maikanak nêsta atimwak mona oci pitošinakosiwak. pêyakwanok kitašikêwak nêsta ki mamawi tašikêwak tipilawê owatimowak. pêyakwa ê kišikak, wisakêcak pimotêkopan lali sakaikanik ê kanawapamat nanakaw pilêsowa aniki towak šišipak nêsta niskak. ki itaw piko anta êkanawapamat. mona oci wikakwênipayêw šakoc mona oci šiwatêw.
Transliteration by the Cree Syllabics Convertor
Sample video about Moose Cree
Information about Moose Cree | Numbers
Links
Information about Moose Cree
https://en.wikipedia.org/wiki/Moose_Cree_language
https://en.wikipedia.org/wiki/Eastern_Cree_syllabics
https://syllabics.atlas-ling.ca/syllabic_charts/syllabic-chart-audio-moose.html
https://www.ethnologue.com/language/crm
https://www.moosecree.com/departments/languageculture/
https://moosecree.ca/
https://popularresistance.org/moose-cree-first-nation-seeks-to-revitalize-its-language/
https://glottolog.org/resource/languoid/id/moos1236
Algonquian languages
Abenaki
,
Algonquin
,
Arapaho
,
Atikamekw
,
Blackfoot
,
Cheyenne
,
Chippewa
,
Cree (East)
,
Cree (Moose)
,
Cree (Plains)
,
Cree (Swampy)
,
Cree (Woods)
,
Fox
,
Innu (Montagnais)
,
Kickapoo
,
Malecite-Passamaquoddy
,
Loup
,
Massachusett (Wampanoag)
,
Menominee
,
Miami
,
Míkmaq
,
Mohegan
,
Mohican
,
Munsee
,
Narragansett
,
Naskapi
,
Ojibwe
,
Oji-Cree
,
Ottawa
,
Penobscot
,
Powhatan
,
Potawatomi
,
Quiripi
,
Sauk
,
Shawnee
,
Unami (Lenape)
Blackfoot, Carrier, Chipewyan, Cree (East), Cree (Moose), Cree (Plains), Cree (Woods), Inuktitut, Naskapi, Ojibwe, Oji-Cree
Languages written with the Latin alphabet
Page created: 30.05.22. Last modified: 02.06.22
[top]
---

Why not share this page:

If you like this site and find it useful, you can support it by making a donation via PayPal or Patreon, or by contributing in other ways. Omniglot is how I make my living.
Note: all links on this site to Amazon.com
, Amazon.co.uk
and Amazon.fr
are affiliate links. This means I earn a commission if you click on any of them and buy something. So by clicking on these links you can help to support this site.
Get a 30-day Free Trial of Amazon Prime (UK)
If you're looking for home or car insurance in the UK, why not try Policy Expert?
[top]