Harari (ሃራሪ / Gey sinan /
حَارَارِ

)

Harari is a South Semitic language spoken by about 25,000 people in the Harari region in south eastern Ethiopia, particularly in the city of Harari. The language is also known as Adare, Adarinnya, Adere, Aderinya, Gey Sinan or Hararri.

Harari was originally written with a version of the Arabic script, then the Ethopic script was adopted to write the language. Harari speakers in Australia write their language with the Latin alphabet.
Arabic alphabet for Harari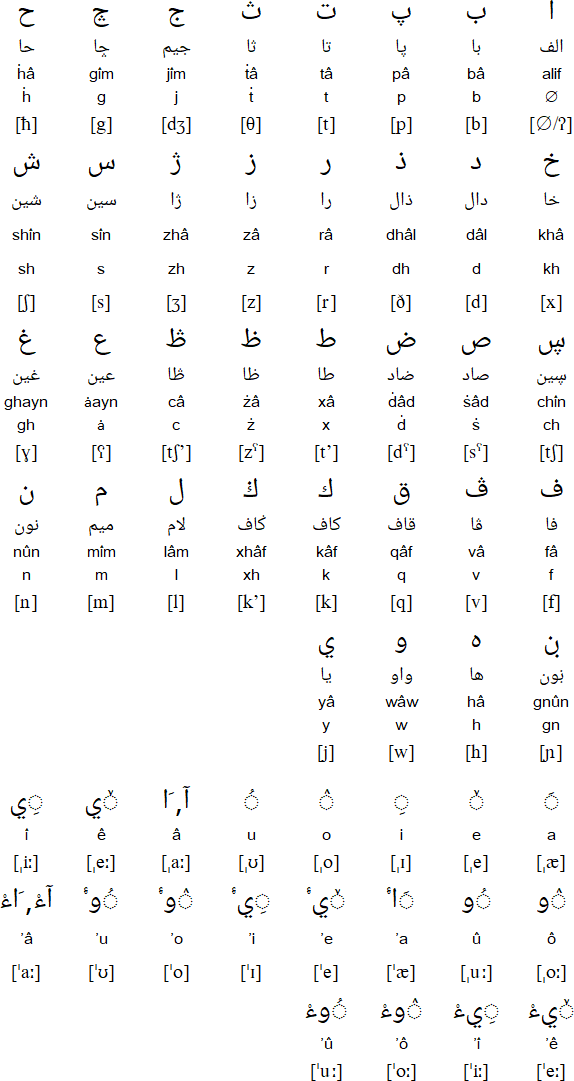 Ethiopic script for Harari

Latin alphabet for Harari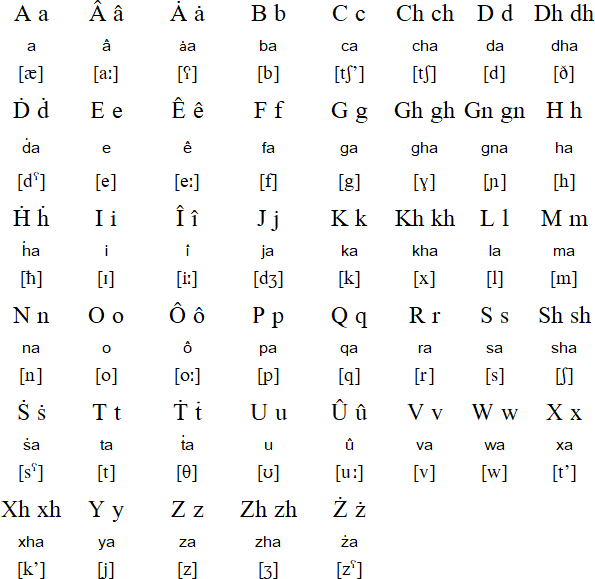 Notes
The character ' indicates:

that the preceding consonant is an isolated consonant rather than part of a digraph, e.g. hêg'na (ሔ́ግነ, ن َىݘ ْ حٛ - replace) , i.e. g'n is "g+n" rather than "gn".
distinguishes between a double digraph and a consonant followed by digraph, َ ْݘ َڹ ,መግኘ (mag'gna م - throwing) i.e. g'gn is "g+gn" rather than "ggn".
distinguishes between a consonant and an isolated vowel Gaz'i (ገዝኢ, ٕاْ ِ َݘز - God); or
following a vowel it indicates that the vowel is stressed ra'yi (ረእዪ, يِ ْٔ ا َ ر - idea) or usu' ُسْؤ ,ኡሱእ( ُٔ .(people - ا OR

Ȧ, dh, ḋ, ḣ, gh, ṡ, ṫ and ż are only used in Arabic loanwords and names. P and v are only used in other loanwords and names, mainly from English.
Download alphabet charts for Harari (Excel)
Corrections and improvements provided by Michael Peter Füstumum
Sample text in Arabic script
ولدڛزنو دينزي وا سننزيوو متلٚيمدلٚ 1992بٚ قرن ݘٚيي كفتنم ݘٚيي سننو اَمَانبٚ متلٚيمد نفرككت لتين هرفيبٚ متلٚيمد اٚيݘلن.
ييبٚ اَمَانبٚ ولدڛزن اُوݘ زلهدبٚ, 1999بٚ بدبٚ (هرربٚ) هكومزن سب هرفبٚ سننزنو مكتبلٚ مرت هلف زشس اِݘڹڛم فيتزنو اَززٛ ݘرب ݘرݘب آشن. يخنمم قڟبٚ زلٚيق ولدڛو سب هرفيو متلٚيمد اٛوركت تب خنم اِݘڹنٚيو.
Sample text in Ethiopic script
ወልዳችዚናው ዲ́ንዚዩ ዋ ሲናንዚዩ́ው መትሌ́መድሌ 1992ቤ ቁራን ጌ́ይ ከፈትነመ ጌ́ይ ሲናኑው አማንቤ መትሌ́መድ ኒፈርኪኩት ላቲ́ን ሐርፊ́ቤ መትሌ́መድ ኤ́ገልነ፨
ዪ́ቤ አማንቤ ወልዳችዚነ ኡ́ገ ዚለሐዱቤ፣ 1999ቤ ባድቤ (ሀረርቤ)ሑኩ́መዚነ ሰቢ ሐርፊቤ ሲናንዚናው መክተብሌ ሙርቲ ሑሉፍ ዛሸሰ ኢግኛቹም ፊ́ትዚናው አዝዞ ገረብ ገርገብ ኣሽነ። የኽኒማም ቃጪቤ ዚሌ́ቁ ወልዳቹው ሰቢ ሐርፊ́ው መትሌ́መድ ኦ́ርኩት ታብ ኻነመ አገኝኔ́ው፨
Sample text in the Latin alphabet
Waldâchzinâw dînziyu wâ sinânziyûw matlêmadle 1992be qurân gêy kafatnama Gêy sinânuw amânbe matlêmad nifarkikut lâtîn harfîbe matlêmad êgalna.
Yîbe amânbe waldâchzina ûga zilahadube, 1999be bâdbe (Hararbe) hukûmazina sabai harfibe sinânzinâw maktable murti huluf zâshasa iggnâchum fîtzinâw azzo garab gargab âshna. Yakhnimâm qâcibe zilêqu waldâchuw sabai harfîw matlêmad ôrkut tâb khânama agagnnêw.
Translation
Back in 1992 Harari Language School was established to teach our children the Harari language. To simplify the process of teaching we adopted the Latin script and have successfully developed it for the need of the Harari language.
In 1999, when the Harari Regional Government adopted the Sabean (Ethiopic) script, we tried to use it here for our students. However our students found Sabean script very hard to learn.
Source: http://www.saayharari.com
Information about Harari scripts compiled by Wolfram Siegel and Michael Peter Füstumum.
Links
Information about Harari
http://en.wikipedia.org/wiki/Harari_language
http://www.saayharari.com
http://www.wollamshram.ca/1001/East/east1_appn02.htm
http://www.ethnologue.com/language/har/
http://web.archive.org/web/20130410171352/http://openroad.net.au/languages/african/harari/harari-character-tables-v3.pdf
Semitic languages
Akkadian, Amharic, Arabic (Algerian), Arabic (Bedawi), Arabic (Chadian), Arabic (Egyptian), Arabic (Gulf), Arabic (Hassaniya), Arabic (Hejazi), Arabic (Lebanese), Arabic (Modern Standard), Arabic (Moroccan), Arabic (Najdi), Arabic (Syrian), Aramaic, Argobba, Assyrian / Neo-Assyrian, Canaanite, Chaha, Chaldean Neo-Aramaic, Ge'ez, Hadhramautic, Harari, Hebrew, Himyaritic, Jewish Neo-Aramaic, Maltese, Mandaic, Nabataean, Neo-Mandaic, Phoenician, Punic, Qatabanic, Sabaean, Sabaic, Silt'e, Syriac, Tigre, Tigrinya, Turoyo, Ugaritic, Western Neo-Aramaic
Languages written with the Ethiopic (Ge'ez) script
Aari, Amharic, Argobba, Awngi, Bench, Blin, Chaha, Dizin, Ge'ez, Gumuz, Hamer(-Banna), Harari, Inor, Sidama, Silt'e, Tigre, Tigrinya, Xamtanga
Page last modified: 23.04.21
[top]
---

Why not share this page:

If you like this site and find it useful, you can support it by making a donation via PayPal or Patreon, or by contributing in other ways. Omniglot is how I make my living.
Note: all links on this site to Amazon.com
, Amazon.co.uk
and Amazon.fr
are affiliate links. This means I earn a commission if you click on any of them and buy something. So by clicking on these links you can help to support this site.
Get a 30-day Free Trial of Amazon Prime (UK)
If you're looking for home or car insurance in the UK, why not try Policy Expert?
[top]