Phoenician/Canaanite
The Phoenician alphabet developed from the Proto-Canaanite alphabet, during the 15th century BC. Before then the Phoenicians wrote with a cuneiform script. The earliest known inscriptions in the Phoenician alphabet come from Byblos and date back to 1000 BC.
The Phoenician alphabet was perhaps the first alphabetic script to be widely-used - the Phoenicians traded around the Mediterraean and beyond, and set up cities and colonies in parts of southern Europe and North Africa - and the origins of most alphabetic writing systems can be traced back to the Phoenician alphabet, including Greek, Etruscan, Latin, Arabic and Hebrew, as well as the scripts of India and East Asia.
Notable features
Type of writing system: abjad / consonant alphabet with no vowel indication
Writing direction: right to left in hortizontal lines. Sometimes boustrophedon.
Script family: Proto-Sinaitic, Phoenician
Number of letters: 22 - there was considerable variation in their forms in different regions and at different times.
The names of the letters are acrophonic, and their names and shapes can be ultimately traced back to Egyptian Hieroglyphs. For example, the name of the first letter, 'aleph, means ox and developed from a picture of an ox's head. Some of the letter names were changed by the Phoenicians, including gimel, which meant camel in Phoenician, but was originally a picture of a throwing stick (giml).
Used to write
Phoenician, a Northern Semitic language which originated in about the 11th century BC in what is now Lebannon, Syria and Israel, an area then known as Pūt in Phoenician and Ancient Egyptian, Canaan in Biblical Hebrew, Old Arabic and Aramaic, and Φοινίκη (Phoiníkē) / Phoenicia in Greek and Latin.
Phoenician spread around the Mediterranean, particularly to Tunisia, southern parts of the Iberian peninsula (modern Spain and Portugal), Malta, southern France and Sicily, and was spoken until the 2nd century AD.
A variant of Phoenician, known as Punic, was spoken in Carthage, a Phoencian colony in what is now Tunisia, until the 6th century AD.
The native name for the language was (𐤃𐤁𐤓𐤌) 𐤐𐤍𐤍𐤌 \ 𐤊𐤍𐤀𐤍𐤌 ((dabari-m) Pōnnīm / Kana'nīm), which means "Punic/Canaanite (speech)"
Phoenician alphabet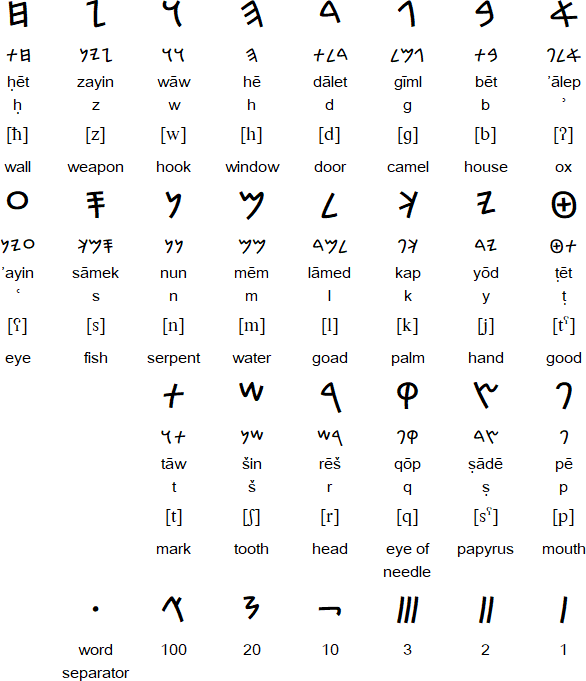 Download an alphabet chart for Phoenician (Excel)
Sample text

Transliteration
Noladu kūl ʾadōmim ma-ḥopūšot ū-ma-šoyot bi-yoqūrotom ū-bi-zikūtom. Nittanu lom boyūn wu-ṣopūn, wi-yakunū linhūg ʾaḥat li-ʾaḥat bi-rūḥ šal ʾaḥīt.
Sample text provided by Aram Nersesian
Translation
All human beings are born free and equal in dignity and rights. They are endowed with reason and conscience and should act towards one another in a spirit of brotherhood.
(Article 1 of the Universal Declaration of Human Rights)
Sample video in Phoenician
Information about Phoenician | Numbers
Links
Information about the Phoenician alphabet and language
http://phoenicia.org/alphabet.html
http://en.wikipedia.org/wiki/Phoenician_alphabet
http://near-eastern-history.suite101.com/article.cfm/the_phoenician_alphabet
http://www.phoenician.org/alphabet.htm
About Phoenica
http://phoenicia.org
ALPHABETUM - a Unicode font specifically designed for ancient scripts, including classical & medieval Latin, ancient Greek, Etruscan, Oscan, Umbrian, Faliscan, Messapic, Picene, Iberian, Celtiberian, Gothic, Runic, Old & Middle English, Hebrew, Sanskrit, Old Nordic, Ogham, Kharosthi, Glagolitic, Old Cyrillic, Phoenician, Avestan, Ugaritic, Linear B, Anatolian scripts, Coptic, Cypriot, Brahmi, Old Persian cuneiform: http://guindo.pntic.mec.es/~jmag0042/alphabet.html
Ancient Berber, Arabic, Aramaic, Chorasmian, Elymaic, Hatran, Hebrew, Manichaean, Nabataean, North Arabian, Pahlavi, Palmyrene, Parthian, Phoenician, Paleo-Hebrew, Proto-Sinaitic / Proto-Canaanite, Psalter, Punic, Sabaean, Samaritan, Sogdian, South Arabian, Syriac, Tifinagh, Ugaritic
Semitic languages
Akkadian, Amharic, Arabic (Algerian), Arabic (Bedawi), Arabic (Chadian), Arabic (Egyptian), Arabic (Gulf), Arabic (Hassaniya), Arabic (Hejazi), Arabic (Lebanese), Arabic (Modern Standard), Arabic (Moroccan), Arabic (Najdi), Arabic (Syrian), Aramaic, Argobba, Assyrian / Neo-Assyrian, Canaanite, Chaha, Chaldean Neo-Aramaic, Ge'ez, Hadhramautic, Harari, Hebrew, Himyaritic, Jewish Neo-Aramaic, Maltese, Mandaic, Nabataean, Neo-Mandaic, Phoenician, Punic, Qatabanic, Sabaean, Sabaic, Silt'e, Syriac, Tigre, Tigrinya, Turoyo, Ugaritic, Western Neo-Aramaic
Page last modified: 25.04.23
[top]
---

Why not share this page:

If you like this site and find it useful, you can support it by making a donation via PayPal or Patreon, or by contributing in other ways. Omniglot is how I make my living.
Note: all links on this site to Amazon.com
, Amazon.co.uk
and Amazon.fr
are affiliate links. This means I earn a commission if you click on any of them and buy something. So by clicking on these links you can help to support this site.
Get a 30-day Free Trial of Amazon Prime (UK)
If you're looking for home or car insurance in the UK, why not try Policy Expert?
[top]