Coeur d'Alene (Snchitsu'umshtsn)
Coeur d'Alene is a Salishan language spoken on the Coeur d'Alene Reservation in the north of Idaho in the USA. It is an Interior Salish language and in 2014 there were only 2 elderly native speakers left., however efforts are being made to revive the language.
The Coeur d'Alene Tribal Language Program (hnqwa'qwe'eln) encourages people to learn and use the language and has created learning materials. There are Coeur d'Alene programs on a local radio station, and also language classes, and a grammar, dictionary and other materials have been created for the language.
Coeur d'Alene alphabet and pronunciation
There are a number of ways to write Coeur d'Alene: the linguistic phonetic orthography (LPO), which is also known as the Salishan orthography, and is based on the International Phonetic Alphabet; the Bitar or Nicodemus orthography, which was developed by Lawrence Nicodemus, a Coeur d'Alene scholar; and the Reichard orthography, which was developed by Gladys Reichard and James Teit.
The orthography shown here is the LPO.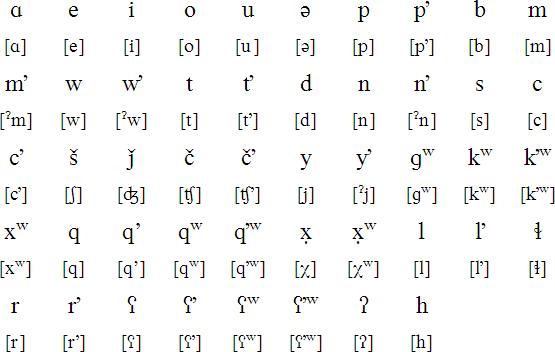 You can hear the sounds of the Coeur d'Alene alphabet at:
http://www.cdatribe-nsn.gov/Langsite/TxtBookLessons.aspx
Download of chart of Coeur d'Alene pronunciation by Wolfram Siegel (PDF, in German)
Sample text (the Lord's Prayer)
Pipe'et at tch'masq'it,
cha'qhaminchs aaya') schint iskwist,
Che'kut'ich'ilchs aaya') lhe iitspu'us,
Iine'kunmn che'k'u'lntm e tmikhu'lmkhw aats'aqhl at tch'masq'it.
Chelhkuschilhshesh lha a'yya')tminmet aaqhi'wlh,
Chel'u'wistsanqhilhm lhe khwelkhultet,
Aats'aqhl tsanqhillhtmet lhe'plhkhwelkhult te'l chlipust,
Chelhkusch'nshish te'l tse'nuk'ukune'm'n,
Chelh'u'wisnichm lhe ch'est te'l chlipust.
Cha'wu'nsh aats'aqhl.
Source: http://www.christusrex.com/www1/pater/JPN-coeur.html
Here a recording of this text at:
http://cdatribalschool.org/coeur_dalene_language
Links
Information about Coeur d'Alene
https://en.wikipedia.org/wiki/Coeur_d'Alene_language
http://www.ethnologue.com/language/crd
http://www.native-languages.org/coeur.htm
http://www.cdatribe-nsn.gov/langsite/language.aspx
Salishan languages
Coeur d'Alene, Comox, Halkomelem, Klallam, Lushootseed, Nuxalk, Saanich, Salish
Other languages written with the Latin alphabet