Lushootseed (dxʷləšúcid)
Lushootseed is a member of the Salishan family of languages spoken in southern British Colombia in Canada, and in northern Washington State in the USA. There are about 300 native speakers of various Lushootseed dialects.
Lushootseed is also known as Puget Salish, Puget Sound Salish or Skagit-Nisqually. There are a number of different dialects, which are divided into two groups: Northern Lushootseed and Southern Lushootseed.
The language has been well documented by linguists who worked with Vi Hilbert, a tribal elder who died in 2008. Efforts are now underway revive it. There are classes in Lushootseed for adults and children in a number of schools and colleges, as well as an immersion program at the University of Washington, Tacoma.
Lushootseed alphabet and pronunciation
The Lushootseed alphabet was developed by Vi Hilbert and other Lushootseed language specialists, and is used in the Lushootseed Dictionary.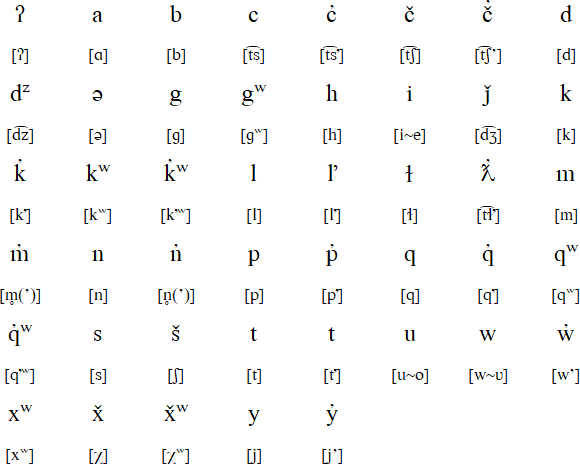 Sample texts in Lushootseed
ti šišəgʷł gʷəl al tiʔəʔəxʷ sgʷaʔčᵉł səxʷəsłałlilčəł siʔał dəgʷi gʷəl liiiiləxʷ dʔiišəd cəłul'ul' cəł ʔəslax̌ədxʷ ti gʷaalapu
Translation
SEATTLE Chief of the Suqampsh and Allied Tribes, Died June 7, 1866. The Firm Friend of the Whites, and for Him the City of Seattle was Named by Its Founders.
This text appears on a bust of Chief Seattle in Pioneer Square in Seattle.
Sources: https://en.wikipedia.org/wiki/Lushootseed_language & https://en.wikipedia.org/wiki/Chief_Seattle
siʔsiʔab bək'ʷaʔkʷbixʷ ʔugʷəc. ʔəsdᶻəw'il əlgʷəʔ . ʔəstalx̌ əlgʷəʔ ʔəst'ugʷud, ʔəsx̌əčbid ƛ'ubexʷ əlgʷəʔ shuyils ʔalʔalš.
Translated by the Carmenta Lushootseed Tutor
Translation
All human beings are born free and equal in dignity and rights. They are endowed with reason and conscience and should act towards one another in a spirit of brotherhood.
(Article 1 of the Universal Declaration of Human Rights)
Links
Information about Lushootseed
https://en.wikipedia.org/wiki/Lushootseed_language
http://www.tulaliplushootseed.com/
http://www.native-languages.org/lushootseed.htm
http://www.languagegeek.com/salishan/lushootseed.html
Salishan languages
Coeur d'Alene, Comox, Halkomelem, Klallam, Lushootseed, Nuxalk, Saanich, Salish
Other languages written with the Latin alphabet