Nuxalk
Nuxalk [nuχalk] is a Salishan language spoken in Bella Coola in British Colombia in Canada by maybe 20 people, all of known are elderly. The language is also known as Bella Coola, although Nuxalk is the preferred name, particularly for the Nuxalk Nation government. The name Bella Coola comes from bḷ́xʷlá, which means "stranger" in Heiltsuk, a Wakashan language also spoken in British Colombia.
Nuxalk is taught in a number of provincial schools in British Colombia and in Nuxalk Nation's school, Acwsalcta.
There are two ways of writing Nuxalk: the Americanist orthography developed by Philip Davis and Ross Saunders, and a practical orthography used in Hank Nater's The Bella Coola Language (1984) and his Nuxalk-English Dictionary (1990).
Nuxalk alphabet and pronunciation
The practical orthography is shown first, then the Americanist orthography, where they differ.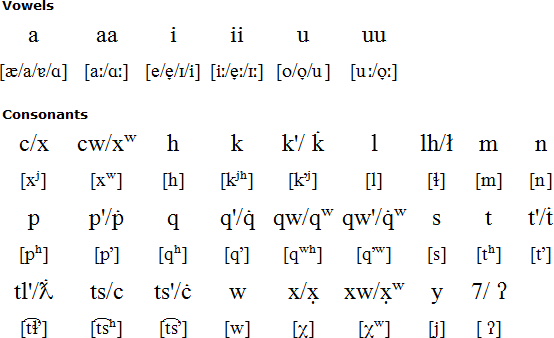 Download a Nuxalk pronunciation chart (PDF, in German)
Some details of Nuxalk pronunciation supplied by Wolfram Siegel
Sample
clhp'xwlhtlhplhhskwts' / xłp̓χʷłtłpłłskʷc̓
IPA transcription
xɬp'χʷɬtʰɬpʰɬːskʷʰt͡s'
Translation
Then he had had in his possession a bunchberry plant.
This is an example of a word with no vowels, something that is quite common in Nuxalk.
Souce: Nater, Hank F. (1984). The Bella Coola Language. Mercury Series; Canadian Ethnology Service (No. 92). Ottawa: National Museums of Canada.
A video in Nuxalk:
Links
Information about the Nuxalk Language
https://en.wikipedia.org/wiki/Nuxalk_language
http://www.native-languages.org/nuxalk.htm
https://www.ethnologue.com/language/blc
http://www.acwsalcta.ca/nuxalk-language
http://www.firstvoices.com/en/Nuxalk/words
Salishan languages
Coeur d'Alene, Comox, Halkomelem, Klallam, Lushootseed, Nuxalk, Saanich, Salish
Other languages written with the Latin alphabet