Halkomelem (Halq̓eméylem)
Halkomelem is a member of the Central branch of the Salishan family of languages spoken by about 285 people in southern British Colombia in Canada and northern Washington State in the USA. There are three dialect groups: Upriver, Island and Downriver. In the Upriver dialect the language is called Halq̓eméylem, in Island dialect it is called Hul̓q̓umín̓um̓, and in the Downriver dialect it is called hən̓q̓əmin̓əm̓.
Halkomelem is taught in a number of language programs run by the Stó:lō Nation, Seabird Island First Nation, and the Cowichan First Nation. There are also language class for adults run by Musqueam Indian Band and the University of British Columbia First Nations and endangered languages programme.
Halkomelem alphabet and pronunciation
This pronunciation is for the dialect spoken by the Musqueam, one of the Downriver dialects (hən̓q̓əmin̓əm̓).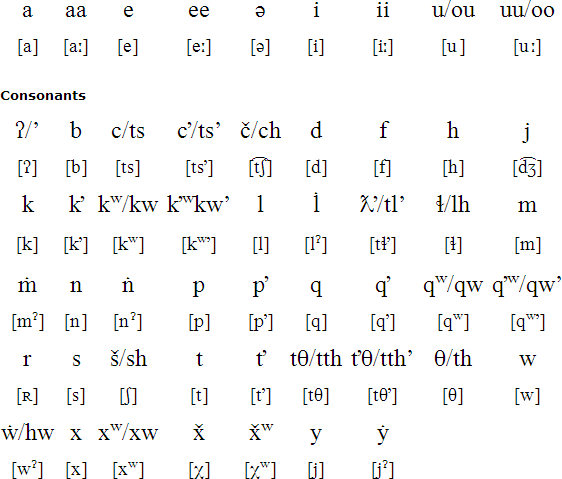 Download of chart of halkomelem pronunciation by Wolfram Siegel (PDF, in German)
Sample text (Hail Mary)
O Mali, sledzechwh tsa lagrace, Thithel-Siam e taloa, talva gewal ei houlum ko mokh slali, oulalu ei tashwa mella Jesu. Ei Mali, tam kwa Thithel-Siam, keitalwshwh houlam tale Thithel-Siam, tlalhemalh khel mwsteiwh, etela kha outsacha ta skhaittzet. Eitsha kws staj.
Source: http://www.christusrex.com/www1/pater/JPN-stalo.html
Links
Information about Halkomelem
https://en.wikipedia.org/wiki/Halkomelem
http://www.ethnologue.com/language/hur
http://maps.fphlcc.ca/halkomelem
http://www.native-languages.org/halkomelem.htm
http://web.uvic.ca/hrd/hulq/
http://www.languagegeek.com/salishan/halkomelem.html
Salishan languages
Coeur d'Alene, Comox, Halkomelem, Klallam, Lushootseed, Nuxalk, Saanich, Salish
Other languages written with the Latin alphabet