Salish (Séliš)
Salish is a member of the Salishan language family spoken by about 114 people in the Flathead Nation in north-central Montana and in the Kalispel Indian Reservation in northeast Washington State. Salish is also known as Séliš, Kalispel-Pend d'oreille, Kalispel-Spokane-Flathead or Montana Salish.
Salish is classified as "critically endangered" by UNESCO and all the speakers are elderly. However efforts are being made to revive it: it is taught and used as a language of instruction at a number of schools in Montana, as well as at the Salish Kootenai College, where students can train to teach the language.
A dictionary, children books and various language learning material are available in Salish. There are also some broadcoast in Salish on the Salish Kootenai College TV station.
Salish alphabet and pronunciation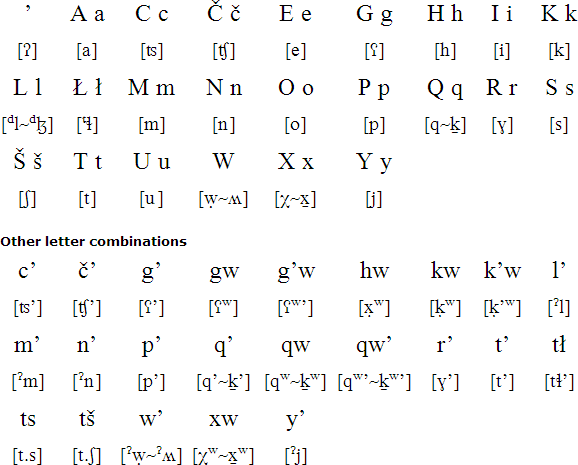 Download a chart of the Salish alphabet (PDF, in German)
Information about Salish pronunciation complied by Wolfram Siegel
Sample text
Yetłxʷasq̓t qe y̓amncut u qe es wičstm łu nxʷlxʷiltn ta es hoy qe cxʷic̓łlt łu qeqł nxʷlxʷiltn iqs šiʔmnwexʷ l es yaʔ łu l es xʷlxʷilt put u yetłxʷasq̓t łu qe nk̓ʷłaxmintn nk̓ʷuʔ wilš łu ne qe es lmntmnwexʷ u qe es cuti lemlmtš č̓ es yaʔ sqlqelixʷ x̣ʷl̓ qe sqelixʷ.
Translation
Today we have gathered and we see that the cycles of life continue. We have been given the duty to live in balance and harmony with each other and all living things. So now, we bring our minds together as one as we give greetings and thanks to each other as People.
Source: http://www.thesalishinstitute.org/s
Links
Information about Salish
https://en.wikipedia.org/wiki/Salish-Spokane-Kalispel_language
https://en.wikipedia.org/wiki/Bitterroot_Salish
https://en.wikipedia.org/wiki/Pend_d'Oreilles
https://fr.wikipedia.org/wiki/Spokane_(langue)
https://es.wikipedia.org/wiki/Lenguas_salishanas
https://fr.wikipedia.org/wiki/Kalispel
https://de.wikipedia.org/wiki/Salish-Sprachen
http://www.ethnologue.com/18/language/fla
http://www.ethnologue.com/18/language/spo
http://kalispeltribe.com/our-tribe/language
http://guweb2.gonzaga.edu/kalispel/
http://www.endangeredlanguages.com/lang/4148
Salishan languages
Coeur d'Alene, Comox, Halkomelem, Klallam, Lushootseed, Nuxalk, Saanich, Salish
Other languages written with the Latin alphabet