Comox (Saɬuɬtxʷ / Salhulhtxw)
Comox is a Coastal Salish language spoken in parts of British Colombia in Canada by about 36 people. Historically it was spoken in the northern Georgia Strait region along the east coast of Vancouver Island and the northern Sunshine Coast. There were main dialects: Island Comox, which was spoken by the K'omoks First Nation, but is now extinct, and Mainland Comox, which is spoken by the Sliammon, Klahoose and Homalhco.
Comox is also known as K'omoks, Sliammon or Ayeahjuthum.
Comox alphabet and pronunciation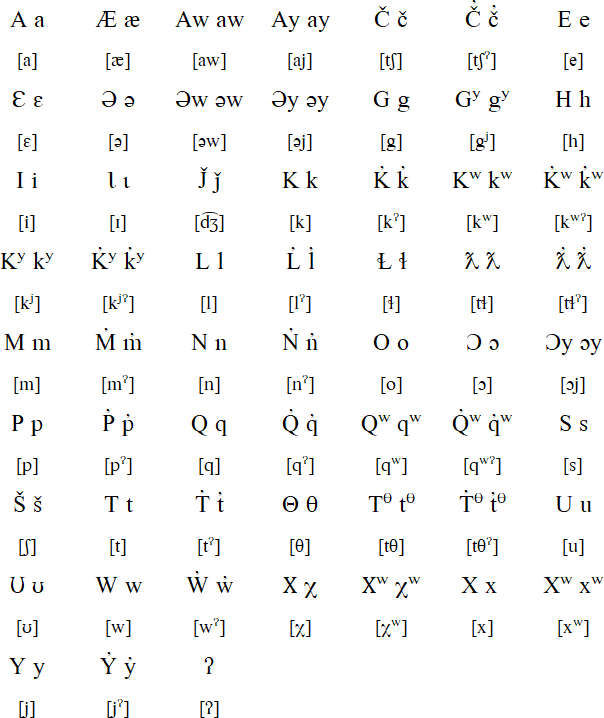 Download an alphabet chart for Comox (Excel)
Sample text (from Makʷayɛtəns qayx - Mink's graveyard)
Hɛw xaƛs qayx kʷ malyɛs. Xaƛuxʷas ta kʷiškʷiš. jɛttan kʷa kʷiškʷiš. Malyɛtəm qayx ta kʷiškʷiš. Xaƛuxʷmotas šɛ saɬtus. Kʷʊtəm qayx šɛ paʔa t̓ᶿokʷ. Gyɛtas ta qayɛmɩxʷ: "Hɛsəm čɛ ʔaθ kʷaθ kʷətᶿ qaysəm?" Nanətəm šɛ pʔa gɩǰɛ. Xʷə natəm qayx. Łaxsxʷas ʔot.
Translation
Mink really wanted to get married again. He was really in love with Bluejay. she was a widow. Mink married Bluejay. He loved his wife. One day Mink got very sick. He asked the people: "Where will you put me when I die?" They named one place. No, said Mink. He did not like it.
Information about Comox pronunciation and the sample text provided by Michael Peter Füstumum
Links
Information about the Comox Language
https://en.wikipedia.org/wiki/Comox_language
http://www.ethnologue.com/language/coo
http://www.native-languages.org/comox.htm
http://www.ydli.org/langs/comox.htm
Salishan languages
Coeur d'Alene, Comox, Halkomelem, Klallam, Lushootseed, Nuxalk, Saanich, Salish
Other languages written with the Latin alphabet