Kashmiri (कॉशुर /
كٲشُر

)

Kashmiri or Koshur is a member of the Dardic subgroup of the Indo-Aryan language. It has around 5.5 million speakers mainly in the Kashmir Valley in Jammu and Kashmir in northern India. There are also around a hundred thousand Kashmiri speakers in Pakistan.

Kashmiri first appeared in writing during the 8th century AD in the Sharda alphabet, which is still used in religious ceremonies by Kashmiri Pandits. After the arrival of Islam in Kashmir during the 15th century, the Arabic script was adapted to write Kashmiri. Today Kashmiri Muslims write their language with the Arabic script, and Kashmiri Hindus used the Devanagari alphabet.

Kashmiri is one of the official languages of India, and is taught in all schools in the Kashmir valley.
Arabic script for Kashmiri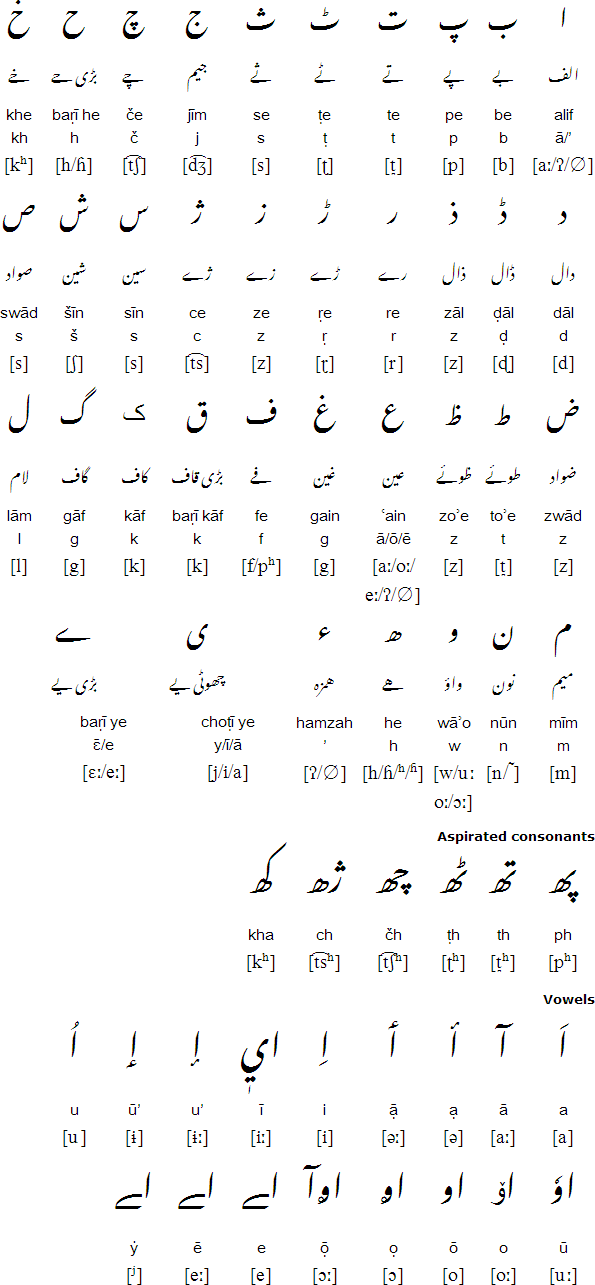 Numerals

Devanagari alphabet for Kashmiri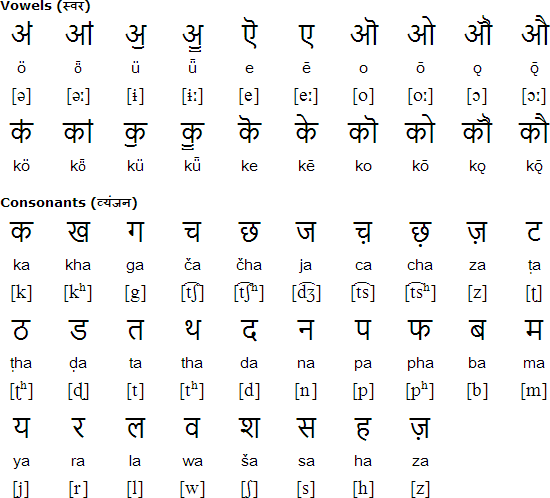 Sources: http://koshur.org/pdf/Let Us Learn Kashmiri.pdf and http://www.geocities.ws/michaelpeterfustumum/kashmiri_latin_alphabet.htm
Sample text in Kashmiri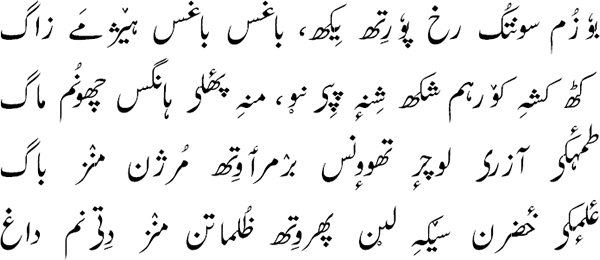 Source: http://www.kashmirilanguage.com/PDF's/Manikaman_1.pdf
Information about Kashmiri | Kashmiri phrases | Kashmiri numbers
Links
Information about Kashmiri
http://en.wikipedia.org/wiki/Kashmiri_language
http://www.kashmirilanguage.com
Koshur - an introduction spoken Kashmiri
http://www.koshur.org
Online Kashmiri dictionary
http://dsal.uchicago.edu/dictionaries/grierson/
Koshurakhbar - the online Kashmiri newspaper
http://www.koshurakhbar.com
Indo-Aryan languages
Awadhi, Assamese, Bengali, Bhojpuri, Chakma, Dhivehi, Fiji Hindi, Gujarati, Hindi, Kashmiri, Konkani, Kotia, Kutchi, Maithili, Marathi, Marwari, Modi, Nepali, Odia, Palula, Punjabi, Rajasthani, Romani, Saraiki, Sarnámi Hindustani, Sindhi, Sinhala, Shina, Sourashtra, Sugali, Sylheti, Urdu
Other languages written with the Arabic and Devanagari scripts