Minangkabau (Baso Minangkabau /
باسو مينڠكاباو

)

Minangkabau is a Malayic language with about 8.5 million speakers in West and North Sumatra, Riau, Jambi, Bengkulu and Aceh in Indonesia, and in Negeri Sembilan in Malaysia. There are a number of dialects of Minangkabau in the different areas where it's spoken. The most common dialect used among Minangkabau people to communicate with Minangkabau speakers from different areas is the Agam-Tanah Datar dialect (Baso Padang or Baso Urang Awak "our (people's) language").

Minangkabau is currently written with the Latin alphabet, but used to be written with a version of the Arabic alphabet.
Minangkabau pronunciation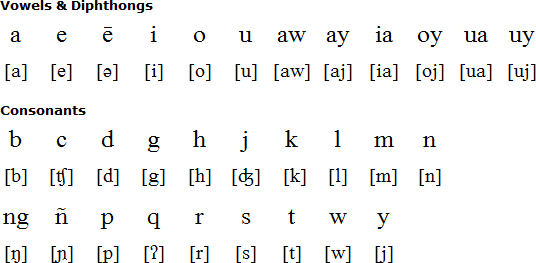 Sample text in Minangkabau
Sadonyo manusia dilahiakan mardeka dan punyo martabat sarato hak-hak nan samo. Mareka dikaruniai aka jo hati nurani, supayo satu samo lain bagaul sarupo urang badunsanak.
Listen to a recording of this text by Sjinta Djoemiati
Another version of this text translated by Andre Septiawan
Sado alah manusia dilahiakan mardeka jo punyo martabaik sarato hak-hak nan samo. Inyo dikaruniaan aka jo hati nurani, supayo surang jo nan lain bagauah di dalam samangaik badunsanak.
Translation
All human beings are born free and equal in dignity and rights. They are endowed with reason and conscience and should act towards one another in a spirit of brotherhood.
(Article 1 of the Universal Declaration of Human Rights)
Information about Minangkabau | Number in Minangkabau
Links
Information about Minangkabau
http://en.wikipedia.org/wiki/Minangkabau_language
http://fr.wikipedia.org/wiki/Minangkabau_(langue)
http://www.ling.hawaii.edu/ldtc/languages/minang/
Malayo-Polynesian languages
Other languages written with the Latin alphabet