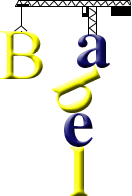 The Tower of Babel (Genesis 11: 1-9)
বাংলা (Bengali)
প্লাবনের পরে সমস্ত পৃথিবী এক ভাষাতে কথা বলত| সমস্ত মানুষ একই শব্দগুলি ব্যবহার করত|
সেই লোকেরা পূর্ব দিক থেকে ঘুরতে ঘুরতে শিনিয়র দেশে এসে সমতল ভূমি পেল| তারা সেখানে বসবাস শুরু করল|
তারা বলল, "আমরা মাটি দিয়ে ইঁট তৈরী করব, তারপর আরও শক্ত করার জন্যে ইঁটগুলো পোড়াব|" তখন মানুষ পাথরের বদলে ইঁট দিয়ে বাড়ী তৈরী করল| আর গাঁথনি শক্ত করার জন্যে সিমেন্টের বদলে আলকাতরা ব্যবহার করল|
তারা বলল, "এস আমরা আমাদের জন্যে এক বড় শহর বানাই| আর এমন একটি উঁচু স্তম্ভ বানাই যা আকাশ স্পর্শ করবে| তাহলে আমরা বিখ্যাত হব এবং এটা আমাদের এক সঙ্গে ধরে রাখবে| সারা পৃথিবীতে আমরা ছড়িয়ে থাকব না|"
সেই শহর আর সেই আকাশস্পর্শী স্তম্ভ দেখতে প্রভু পৃথিবীতে নেমে এলেন| মানুষ কি কি তৈরী করেছে সেসব প্রভু দেখলেন|
প্রভু বললেন, "সব মানুষ একই ভাষাতে কথা বলছে| আর দেখতে পাচ্ছি য়ে এসব কাজ করার জন্যে তারা ঐক্যবদ্ধ| তারা কি করতে পারে এ তো সবে তার শুরু| শীঘ্রই তারা যা চায় তাই করতে পারবে|
তাহলে এস আমরা নীচে গিয়ে ওদের এক ভাষাকে নানারকম ভাষা করে দিই| তাহলে তারা পরস্পরকে বুঝতে পারবে না|"
সুতরাং প্রভু সমস্ত লোকেদের সারা পৃথিবীতে ছড়িয়ে দিলেন| ফলে মানুষ আর সেই শহর তৈরির কাজ শেষ করতে পারল না|
এই সেই স্থান যেখানে প্রভু সমস্ত পৃথিবীর এক ভাষাকে অনেক ভাষাতে বিভ্রান্ত করলেন| তাই এই স্থানটির নাম হলো বাবিল| এইভাবে প্রভু তাঁদের সেই স্থান থেকে পৃথিবীর বিভিন্ন স্থানে ছড়িয়ে দিলেন|
Transliteration
Plabôner pôre sômôstô prthibī ek bhashate kôtha bôltô. Sômôstô manush ekô'i shôbdôguli bêbôhar kôrtô.
She'i lōkera pūrbô dik theke ghurte ghurte shiniyôr deshe ese sômôtôl bhūmi pelô. Tara sekhane bôsôbas shuru kôrlô.
Tara bôllô, "Amra maṭi diye ĩṭ toirī kôrbô, tarpôr arô'ō shôktô kôrar jôn'ye ĩṭgulō pōṛabô." Tôkhôn manush pathôrer bôdôle ĩṭ diye baṛī toirī kôrlô. Ar gãthôni shôktô kôrar jôn'ye simenṭer bôdôle alkatra bêbôhar kôrlô.
Tara bôllô, "Esô amra amader jôn'ye ekô bôṛô shôhôr bana'i. Ar emôn ekṭi ũchu stômbhô bana'i ya akash spôrshô kôrbe. Tahôle amra bikhyatô hôbô ebông eṭa amader ek sôngge dhôre rakhbe. Sara prthibīte amra chôṛiye thakbô na."
She'i shôhôr ar se'i akashspôrshī stômbhô dekhte prôbhu prthibīte neme elen. Manush ki ki toirī kôrechhe sesôb prôbhu dekhlen.
Prôbhu bôllen, "Sôb manush ekô'i bhashate kôtha bôlche. Ar dekhte pachchhi ye esôb kaj kôrar jôn'ye tara oikêbôd'dhô. Tara ki kôrte pare e tō sôbe tarô shuru. Shīghrô'i tara ya chay ta'i kôrte parbe.
Tahôle esô amra nīche giye ōder ek bhashake nanarôkôm bhasha kôre di'i. tahôle Tara pôrôspôrke bujhte parbe na."
Sutôrang prôbhu sômôstô lōkeder sara prthibīte chhôṛiye dilen. Phôle manush ar se'i shôhôr toirir kaj shesh kôrte parlô na.
E'i se'i sthanô yekhane prôbhu sômôstô prthibīr ek bhashake ônek bhashate bibhrantô kôrlen. Ta'i e'i sthanṭir nam hôlō Babil. E'ibhabe prôbhu tãder se'i sthan theke prthibīr bibhinnô sthane chhôṛiye dilen.
Information about Bengali | Phrases | Numbers | Kinship words | Telling the time | Tower of Babel | Learning materials
Tower of Babel in Indo-Aryan languages
Assamese, Awadhi, Bengali, Fijian Hindi, Gujarati, Hindi, Konkani, Maldivian, Marathi, Nepali, Odia, Punjabi, Sanskrit, Sarnámi Hindustani, Sinhala, Sylheti, Urdu
Other Tower of Babel translations
By language | By language family
---
If you need to type in many different languages, the Q International Keyboard can help. It enables you to type almost any language that uses the Latin, Cyrillic or Greek alphabets, and is free.
If you like this site and find it useful, you can support it by making a donation via PayPal or Patreon, or by contributing in other ways. Omniglot is how I make my living.
Note: all links on this site to Amazon.com
, Amazon.co.uk
and Amazon.fr
are affiliate links. This means I earn a commission if you click on any of them and buy something. So by clicking on these links you can help to support this site.