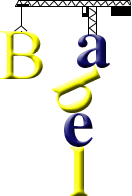 The Tower of Babel (Genesis 11: 1-9)
हिन्दी (Hindi)
अब सारी पृथ्वी पर एक ही भाषा, और एक ही बोली थी।
और जब लोगो ने पूर्व से पलायन किया, उन्होनें शिनार देश में एक मैदान पाया और वहाँ बस गए।
3तब उन्होंने एक दूसरे से कहा कि, "आओ, हम ईंटें बनाते हैं, और अच्छे से पकाते हैं" और उन्होंने पत्थर के स्थान में ईंट से, और चूने के स्थान में मिट्टी के गारे से काम लिया।
फिर उन्होंने कहा, "आओ, हम अपने लिए एक नगर और एक मिनार, जिसकी चोटी आकाश से बात करे, बना लें, इस प्रकार से हम अपना नाम करें, ऐसा न हो कि हम को सारी पृथ्वी पर फैलना पड़े।"
तब यहोवा वह शहर और मिनार देखने के लिए उतरे जो मानव के बाल-बच्चो ने बनाया।
और यहोवा ने कहा, ध्यान से देखो, "सब एक ही लोग हैं, और सब की एक ही भाषा है, और यह उसका आरम्भ है जो यह लोग करेंगे; और वह कुछ भी करना असंभव नहीं होगा जो वे करने का प्रस्ताव रखेंगे।
आओ, अब नीचे उतरा जाए, उनकी भाषा में बड़ी गड़बड़ी डालें, ताकि वे एक दूसरे की बोली को न समझ सकें।"
तो यहोवा ने उनको वहां से सारी पृथ्वी पर फैला दिया, और उन्होंने नगर बनाना छोड़ दिया।
इस कारण उस नगर का नाम बाबेल पड़ा, क्योंकि सारी पृथ्वी की भाषा में गड़बड़ी यहोवा ने वहीं डाली थी। और वहीं से यहोवा ने उनहें सारी पृय्वी के ऊपर फैला दिया।।
Transliteration
Ab sārī pr̥thvī para ēka hī bhāṣā, aura ēka hī bōlī thī.
Aur jab lōgō nē pūrva sē palāyana kiyā, unhōnnē śināra dēś mēṁ ēka maidāna pāyā aura vaham̐ basa ga'ē.
Taba unhōnē ēka dūsrē sē kahā ki, "ā'ō, hama īṇṭēṁ banātē haiṁ, aura ac'chē sē pakātē haiṁ" aura unhōnnē pathara kē sthāna mēṁ īṇṭa sē, aura cūnē kē sthāna mēṁ miṭṭī kē gārē sē kāma liyā.
Phira unhōnnē kahā, "ā'ō, hama apnē li'ē ēka nagara aura ēka mināra, jiskī cōṭī ākāśa sē bāta karē, banā lēṁ, isa prakāra sē hama apanā nāma karēṁ aisā na hō ki hama kō sārī pr̥thvī para phailanā paṛē."
Taba yahōvā vēh śahara aura mināra dēkhanē kē li'ē utarē jō mānava kē bāla-bac'cō nē banāyā
Aura yahōvā nē kahā, dhyāna sē dēkhō, "Saba ēka hī lōga haiṁ, aura saba kī ēka hī bhāṣā bhī hai, aura yaha uskā ārambha hai jō yaha lōga karēṅgē, aura vaha kucha bhi karanā asaṁbhava nahiṁ hōgā jō vē karnē kā prstāva rakhēṅgē.
A'ō, aba nīm̐cē utara ja'ē, unakī bhāṣā mēṁ baṛī gaṛabaṛī ḍālēṁ, tāki vē ēka dūsarē kī bōlī kō na samajha sakēṁ.
To yahōvā nē unakō vahāṁ sē sārī pr̥thvī para phailā diyā, aura unhōnnē nagara banānā chōṛa diyā.
Isa kāraṇa usa nagara kā nāma bābēla paṛā, kyōṅki sārī pr̥thvī kī bhāṣā mēṁ gaṛabaṛī yahōvā nē vahīṁ sē ḍālī thī. Aura vahīṁ sē yahōvā nē unhēṁ sārī pr̥thvī kē ūpara phailā diyā.
Corrections and improvements to translation and transliteration by Nazish Qamar.
Information about Hindi | Phrases | Numbers | Kinship words | Telling the time | Tongue twisters | Tower of Babel | Learning materials | Electronic dicitonaries and translators
Tower of Babel in Indo-Aryan languages
Assamese, Awadhi, Bengali, Fijian Hindi, Gujarati, Hindi, Konkani, Maldivian, Marathi, Nepali, Odia, Punjabi, Sanskrit, Sarnámi Hindustani, Sinhala, Sylheti, Urdu
Other Tower of Babel translations
By language | By language family
---
If you need to type in many different languages, the Q International Keyboard can help. It enables you to type almost any language that uses the Latin, Cyrillic or Greek alphabets, and is free.
If you like this site and find it useful, you can support it by making a donation via PayPal or Patreon, or by contributing in other ways. Omniglot is how I make my living.
Note: all links on this site to Amazon.com
, Amazon.co.uk
and Amazon.fr
are affiliate links. This means I earn a commission if you click on any of them and buy something. So by clicking on these links you can help to support this site.