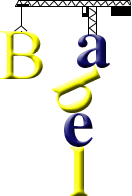 The Tower of Babel (Genesis 11: 1-9)
Bimin
Babilonya Abiw Mutuk Fian em Tum Kun Am Tiakim em Sang te
Sua e, kawin dim kaleem kunum waneng alik alik i bomelei, weng makmak kuw bakamaliw kale.
Beli, bomeliwi, i ataan tele dulum elote unsomi, Babilonya aneng fian kel bamda dim aneng fian mak elo telesomi, ka kel teinsiliw kale.
Teinsomeliwi, i bokolomeliw: "Kae! Kame, nu kawin mak ais fuko, em kitil e tum emdiw kele ding kabalak e, nu tum be kuluko, tum kun am inkalso, tiaktiak mak geluma!", angsiliw kale. Angeko, fein, i tum be kuluko, beem dim kawin dim em eisneng ais gom atew dukusomi, am ki dum ki kelewko, tum fatmo fatmo kelew kelew keko, am tiak tiak mak gesiliw kale.
Gemsomeliwi, i bokolomeliw: "Kame, nu nukalem abiw mutuk fian mak geluma! Abiw mutuk fian kaleem am aliam mak tiaktiak kuw geluma! Am beem kak e abiil atin mutuk mutuk daluw kano, kawtiw i atemeko, nulo wiin fian mak duyemokoliw te! Kanelom mesik esik, nu amen amen keko, aneng aneng ka tein ka tein kelokoluw kasike!", angsiliw kale. Angeko, fein i am aliam tiakim gem kawtem unsiliw kale.
Gem kawtem unsomeliwi, Yawe e abiil tikin kolew teleko, kawtiw biim abiw mutuk fian so, im am aliam gesiliw beso, atemeko,
bokolomele: "Fein! Kunum waneng bi bongguko, kawtiw angin makmak kuw kesomi, ibolow ki, weng ki makmak kuw kesomeliwi, aluwbamin fian be aluwkabiliw te. Kame, ikalem ibolow kuw kanelew unbiliwi, i ki keko, aluwbamin alik alik fein kelokoliw kasike.
Kame, nu dak uneko, ikalem weng makmak kebiliw be an wakal amen kuw amen kuw keyemuw kano, i kanelom weng kililew kililew kemokoliw te.", angse kale.
Angeko, Yawe e kawtiw ka biliw alik alik biilo an wakal dolo dolo aneng aneng angom kalo kalo ke koyemse kale. Koyemei, i am aliam tiakim be geko, akiminba kesomi, kolew unsiliw kale.
Uneko, kunum waneng kawtiw bi abiw mutuk fian beem wiin e "Babel!"*, angsiliw kale. Nimtew angom? Ka kel e, Yawe e kawtiw im weng bangbang koyemei, i an wakal keko, kawin dim kaleem aneng aneng angom dolo dolo kalo kalo uneko, amen amen kuw kesiliw kasike.
*Kibulu weng sin e "Babel" wiin mongom so te. Em mongom e kanekote: "Bangbang Kemin".
Source: http://pngscriptures.org/bhl/GEN11.htm#V0
Contributed by Wolfgang Kuhl
Information about Bimin
http://en.wikipedia.org/wiki/Bimin_language
http://www.ethnologue.com/language/bhl
Tower of Babel in Trans-New Guinea languages
Amele, Awara, Barai, Beami, Bimin, Binumarien, Blagar, Borong, Burum-Mindik, Dadibi, Faiwol, Guhu-Samane, Huli, Kamasau, Kamono, Kamula, Kanasi, Kanite, Komba, Kosarek, Kosena, Kyaka, Maia, Maring, Narak, Ngaing, Numanggang, Samberigi, Siroi, Tairora, Tuma-Irumu, Una, Waris, Waskia, Yali, Yipma, Yongkom
Other Tower of Babel translations
By language | By language family
[top]
---

Why not share this page:

If you like this site and find it useful, you can support it by making a donation via PayPal or Patreon, or by contributing in other ways. Omniglot is how I make my living.
Note: all links on this site to Amazon.com
, Amazon.co.uk
and Amazon.fr
are affiliate links. This means I earn a commission if you click on any of them and buy something. So by clicking on these links you can help to support this site.
Get a 30-day Free Trial of Amazon Prime (UK)
If you're looking for home or car insurance in the UK, why not try Policy Expert?
[top]