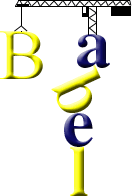 The Tower of Babel (Genesis 11: 1-9)
Faiwol
El am ginabisiw umi sung uta ko
1-9. Kale wanang kinim iyo weng makuw be ki baka bom nadiwe aluk yak Sainad nadiwe bakodiw "nuka anang bakan kadák uyo takas yak aba maek abain bo kudá naduwe abiw dukum mak faktiduw ka, alo gida tam el kaekal abiwe faktiduw ka, tam tam abid tikin unom naduwe nulum win kufodumo." Kalesiw ko. Kale wanang kinim iyo beta kanabidiwo, Got ayo madák itam nadane bako, "naka wanang kinim imi dek am ki bom aket tet bom kanamokabiw kai utami." Kale nadane wanang kinim iyo beta kanoyama weng kukum bakam una bakam una unadiwe el abiw ginamin uyo kudá aka alam anang bakane una una bisiw ko. Kale abiw kawak kimi kanabisiw be abiw dukum Babel kalbiw ko.
Source: Kinim Mit Sung. Faiwol Genesis Abridgement. SIL, Ukarumpa, Papua New Guinea.
Contributed by Wolfgang Kuhl
Faiwol is an Ok language spoken in Western Province of Papua New Guinea.
Information about Faiwol
http://en.wikipedia.org/wiki/Faiwol_language
http://www.ethnologue.com/language/fai
http://transnewguinea.org/language/faiwol
Tower of Babel in Trans-New Guinea languages
Amele, Awara, Barai, Bimin, Binumarien, Blagar, Borong, Burum-Mindik, Dadibi, Faiwol, Guhu-Samane, Huli, Kamasau, Kamono, Kamula, Kanasi, Kanite, Komba, Kosarek, Kosena, Kyaka, Maia, Maring, Narak, Ngaing, Numanggang, Samberigi, Siroi, Tairora, Tuma-Irumu, Waris, Waskia, Yipma, Yongkom
Other Tower of Babel translations
By language | By language family