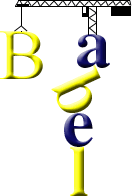 The Tower of Babel (Genesis 11: 1-9)
Kamasau
Wute Babel tiqe mipiq mas
Yabe wute qi pe mas kin ni wand irene mand.
Ni nginy nawi opu mo, di Sinar mingg qi pe ni bed yumbui ire mundoq di tende mas.
Ni wand wand mare mari, "Muqdi beghi qi chiraq wumb kin pitaqwi di baj imb pap kin brik yembe bidiny, di wase bade namb ei ni gre rind." Di wet nyaw pe baj imb map segi, ni brik cheq pe kolta nyang mamb di jiju mand di baj imb map.
Muq ni mari, "Beghi bonne tiqe yumbui ire yembe buduw. Di tiqe tende beghi baj dobui ire yembe bidig newo no no nginy tu pe dung. Beghi puq pen ei beghi bon bon po segi, beghi irepene pas di beghi nyamb yumbui vise."
Pudi Yawe nandi ni tiqe nundoq di baj dobui ni yembe mindig kin te nuqoind
di nari, "Wute men ni irepene mas di wand irene mand bu ni yembe ven mand. Ni pughe kin yembe mand ningg nei namb, tedi segine yembe mindiny.
Muq beghi paghe po wand kin kin peny, ei ni nyuw rip, di wand puate rutungu tuqui segi ei res riwo ruso tiqe kin kin ris."
Yawe ni wand kin kin nem bu ni yembe te si mare di mo kin kin mas qi tuqui mipiq.
Yawe ni wand tuan isis nem di wand nyuw map, bu ni tiqe te Babel puq munduw. Yawe ni wute tiqe tende pu muq tiqi nundom mo qi buagi tuqui mipiq.
Source: Jenesis. Yumbo buagi mingg puate. The beginning of all things. Genesis in the Kamasau Language of Papua New Guinea. SIL Ukarumpa, 1999.
Contributed by Wolfgang Kuhl
Information about Kamasau
http://en.wikipedia.org/wiki/Kamasau_language
http://www.ethnologue.com/language/kms
Tower of Babel in Trans-New Guinea languages
Amele, Awara, Barai, Bimin, Binumarien, Blagar, Borong, Burum-Mindik, Dadibi, Faiwol, Guhu-Samane, Huli, Kamasau, Kamono, Kamula, Kanasi, Kanite, Komba, Kosarek, Kosena, Kyaka, Maia, Maring, Narak, Ngaing, Numanggang, Samberigi, Siroi, Tairora, Tuma-Irumu, Waris, Waskia, Yipma, Yongkom
Other Tower of Babel translations
By language | By language family