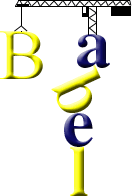 The Tower of Babel (Genesis 11: 1-9)
Kyaka
Anda Londe Mende Yake Panda Pyuo Panya Piyami
Yuu muu dupwana peparae wambu dupwame pii raramendaki lao kareyaminyisa pii wakale wakale ingyuo paa naya.
Dokopa wambu dupwa neta epelyamo dorena palimwa karama peyami dokopa yuu Sina dokona yuulama keyange mende siyamo kando nyepala dokona papala paleyami.
Karapala dokopa pii mende dopa pyuo leyami. Yuu lapo nyepala kana semene inginya lao isare dokona poraiyuo kiso wasamanale, leyami. Dopa pyuo lapala kana nyuo bange lapo wakaiya yale kana rambu larama lao nyuo reteyamiko.
Retapala dokopa nakamame lao, Namwa yuu muu dupwana wakale wakale bolombalo lao pasasarama?a dokona daa?a lao namwana kingi ketae pena lao epapu namwame yuu taone andake pyuo dee anda londe mende yake doko kando nyinya lao pyuo pimana, leyami.
Dokopa Kamongo doko isa epapala akali dupwame yuu taonepe anda londepe piyami dupwa apa pilyamipi lao kandalana epeya.
Epokandapala Kamongome dopa pyuo leya. Kanda, nakama pii mendaki lao rara mendakyako ingyuo karapala yulu andake kanda soo pilyaminyi. Enakana mende pinya lao suupyarami ramo doko yakara pirami ingya nalyamo.
Dokona lao nakamame yango mendeme mendena pii doko see nanale?e lao nakamana pii dupwa wakale wakale lenale ukiaki minyala isa lupyuo monale, leya.
Anatumi dopapyuo bolombalo lao pena leyamosa nakama yuu taone piyaminyi doko yaki nyuo kaepala yuu muu dupwana ralo peyami.
Kamongome nakamana pii ukiaki minyapala yuu pandape dokona piso wambu yuu muu dupwana bolombalo lao pena leyamo dokona yuu doko kingi Bapele lenge.
Source: Jenesese. Buku Baepole. Bible Society of Papua New Guinea, 1987.
Contributed by Wolfgang Kuhl
Kyaka is a Trans–New Guinea language spoken in Enga Province in the eastern highlands of Papua New Guinea.
More information about Kyaka
http://en.wikipedia.org/wiki/Kyaka_language
http://www.ethnologue.org/language/kyc
Tower of Babel in Trans-New Guinea languages
Amele, Awara, Barai, Bimin, Binumarien, Blagar, Borong, Burum-Mindik, Dadibi, Faiwol, Guhu-Samane, Huli, Kamasau, Kamono, Kamula, Kanasi, Kanite, Komba, Kosarek, Kosena, Kyaka, Maia, Maring, Narak, Ngaing, Numanggang, Samberigi, Siroi, Tairora, Tuma-Irumu, Waris, Waskia, Yipma, Yongkom
Other Tower of Babel translations
By language | By language family