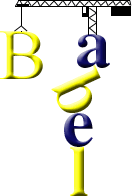 The Tower of Babel (Genesis 11: 1-9)
Guhu-Samane
Babelho Penono
Ttoka ma haba minarata abi noo teenake hiire qaata.
Qaaqi nokoi nete peitoraiho neta tuumaqi Sina oi Baberoniaho kadzabi ota biranateqi guhu ma nagapa eeteta.
Eete qaaqi qesa pobi hiireqi hee, "Banapa biriki korabeteqa eepama qeere qaite omaho qesa tatanga naatare. Naatemake napa oke here ma kaata dzooroqa naga gooto peitare."
Hiiremi minarai gama hee, "Qateqa banapa meusu nagapa teke napame quba gootare. Gootoqa penono mina teke gooto peite quau hesatare. Eeteqa napa bamu teema teeta tuumaquhe, napai ttoka errata qaaqa dzapa pobinoma naate qaarare.
Hiireqi nook meusu nagapa ma penono gootomi Qoberobabaa qurateqi abinaga baura eetoka oke moota.
Mooqi Qoberobai hee, "Meenipamuke abinaga erai noo teena ma abi tupu teenai ooraqi quba erake noko sohobako eete dza nokometa era eetorai. Oonita noko oke eeteqa ipibire dzaa nokometa quba samaneke eete qaaraino.
Oho qubake baa napa ao qurate nokoho noo rasaki eete noko qesaho noo nooka qupadzomaama naatare."
Ohongai oke hiireqi qurate sakatemi nokoi sakabaqi penono ma meusu nagapa nokome qaateqi haba maina painata tuumata.
Tuumami khooba oho qubake haba oke Babel oiqe hireta. Ota Ohonga qurate sakateqi abiho noo rasaki eetemi abi sakabaqi ttoka ma habata noo maina painake hiire tuumaqi oorai.
Source: Genesis Ma Eksodas. Genesis and Exodus in the Guhu-Samane Language of Morobe Province, Papua New Guinea. The Bible League, 1999.
Contributed by Wolfgang Kuhl
Information about Guhu-Samane
http://en.wikipedia.org/wiki/Guhu-Samane_language
http://www.ethnologue.com/language/ghs
Tower of Babel in Trans-New Guinea languages
Amele, Awara, Barai, Bimin, Binumarien, Blagar, Borong, Burum-Mindik, Dadibi, Faiwol, Guhu-Samane, Huli, Kamasau, Kamono, Kamula, Kanasi, Kanite, Komba, Kosarek, Kosena, Kyaka, Maia, Maring, Narak, Ngaing, Numanggang, Samberigi, Siroi, Tairora, Tuma-Irumu, Waris, Waskia, Yipma, Yongkom
Other Tower of Babel translations
By language | By language family