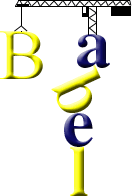 The Tower of Babel (Genesis 11: 1-9)
Kosena
omákaan-damba uráán-kwasai
amápa-kwaasi imbórá-aaimba sun-kwáásí
mésa aavaúmó usópakemba Sínaa maravá'á
kumbá minánúvímbá komaésa sésa maramá táámpau vamái iravímbá agaimáráánana
égési ínataama mindáneiyaa naambá ónááisae sésa mirá kwéesa sésa íma mivá'-maavá'á kwéyáwé ónááisae. ánivo anón-daao'a omákaan-damba úndayaa póna kesúwítaa iyíníye
mirá sésamo omákaan-dambo umbá Aánútu
kunawánéna séna kwaásima kentí-imayaavinkemba mirá kwéowe. amápa-kwaasi imbórá-ááímbá
kwésewe séna ó'on-ó'on-aaimba aokar-aokara'á timúnkakemba kwenáái kwenáái ima
ísówana ti'mátuwówasa omákaan-damba ivátuwesa ópar-ópa'a kwéyáwé uráa.
ó'on-ó'on-aaimba Aánútu tímakaimba póna mimbárúkó áwí'a Pépovare sirái.
Source: ááin-kwasai. Slightly abridged translation of Genesis into Auyaana-Kosena. SIL 1971.
Contributed by Wolfgang Kuhl
Kosena is a Kainantu language spoken in Eastern Highlands Province of Papua New Guinea.
Information about Kosena
http://en.wikipedia.org/wiki/Kosena_language
http://www.ethnologue.com/language/kze
Tower of Babel in Trans-New Guinea languages
Amele, Awara, Barai, Bimin, Binumarien, Blagar, Borong, Burum-Mindik, Dadibi, Faiwol, Guhu-Samane, Huli, Kamasau, Kamono, Kamula, Kanasi, Kanite, Komba, Kosarek, Kosena, Kyaka, Maia, Maring, Narak, Ngaing, Numanggang, Samberigi, Siroi, Tairora, Tuma-Irumu, Waris, Waskia, Yipma, Yongkom
Other Tower of Babel translations
By language | By language family