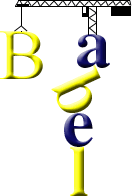 The Tower of Babel (Genesis 11: 1-9)
Ngaing
Yumbang binging Babilonna
Ngu naluna, uya nigut song song ngu yung. Eik gutang nogaing nogaingna uya kai nagi yekiraing.
Eik ngu atat ubikireti dagi alukuing. Gina Babilonda nogana batangaka, nguna yumbang taleka iraing.
Nguna eik ngu ulata taleka sabut uyaing kika yaing, "Apik, gina ning unini gabureka rika noga balasisik yambulingka daburatak, gina tituwat gegang batangani." Unini zozowaling ngu goga rik, tituwat ngu zawalini.
Ngu gora yaing, "Zing batangaka mut kik, gina yumbang kai binging talatak. Gina, buingna kai ilong talatak sabatna alobiti. Gina wawanining itirebititang. Gora kiping, ngudama numaingna gulama huingka nogaing nogaingna awangaping."
Dadu Yaweda* yumbang binging abaing yumbang ilong eik nguda talekiraing, ngu enawika apuring.
Nguda yaring, "Yengaik, baraing eik ngu uyayang gabura kai nagi ireka, inina kai nagi rik batangani irewiyagang. Ngu nasing kiwiyagang. Numaingna unini kitak gayeka inawiyagang ngu gulama udet-pat kiwiyagang.
Welalik, gina alugutak, kika uyayang yambuling kika, uya nigut song song yunatak."
Ngu kirik, Yaweda gora yerani, eik gutang ngu nogaing nogaingna huing kika, yumbang talekiraing ngu wataka awangaing.
Yumbang uhuruk binging ngu wawing Babel** gayaing. Ngu saburing gora, Yaweda eik zawing ngu uya song song yunaka yuwirini nogaing nogaingna huingka awangaing.
*Yawe ngu Barambik wawing eingda.
**"Babel" uya saburing ngu "ganda-ganda".
Source: Abraham, ngu Barambik dabaing. Abraham, God's friend. Genesis chapter 11-25. 1st Edition printed at Ukarumpa, April 2004.
Ngaing is a Finisterre language spoken by about 3,000 people in the Rai Coast district of Madang Province of Papua New Guinea. There are three dialect areas - this translation is in the central dialect.
Contributed by Wolfgang Kuhl
Information about Ngaing
http://en.wikipedia.org/wiki/Ngaing_language
http://www.ethnologue.com/language/nnf
http://www.sil.org/pacific/png/abstract.asp?id=928474542225
Tower of Babel in Trans-New Guinea languages
Amele, Awara, Barai, Bimin, Binumarien, Blagar, Borong, Burum-Mindik, Dadibi, Faiwol, Guhu-Samane, Huli, Kamasau, Kamono, Kamula, Kanasi, Kanite, Komba, Kosarek, Kosena, Kyaka, Maia, Maring, Narak, Ngaing, Numanggang, Samberigi, Siroi, Tairora, Tuma-Irumu, Waris, Waskia, Yipma, Yongkom
Other Tower of Babel translations
By language | By language family