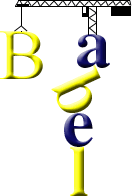 The Tower of Babel (Genesis 11: 1-9)
Maia
Kanidi Babelga saki waliwalinate-wiesa
Da unau, muado nanum yag naum badanana di ilikamo bada idaga igomo onono, winor sakino duwaka iga, di saki duwa onowaka sakiagomo.
Bada ta wedem ilikarav aba onoga walea-avia Babilonia aba muili onara ilikamo.
Bada onoga bugegame umu sak-usomo, "Aria! Ida kumutatesa buiarav i wagerido di brik maliparav." Nematomo bada wino brikat dawa maliparav ono tailikamo. Da mo okod (kolta) brik umu uparar sanarav i bese-demdematarav i wagerarav ono bu tailikamo.
Bada nanomo, "Muanigo av kani maliparav, bada dawa yana kani maliparav i avido bada aba siwar besido. Di muado nanumo malip ono nagesa inim patakatito di me imu reredesa abagat abagat ono rimuaia-aviarav." Nemate sakiamo bada malipamo.
Di God Kanino av kanigat da dawa yana kani muado maia ononadi malipamo ono naginek-anesa gada.
Bada nana, "Muanigo, muado maia ovo, wino dodol duwa da winor saki bu duwa. Oma ubuwanam usesa na dawa yana kani ovo malipamo, da anamgano katu winor muayagga maiamaia malipito!
Aria utuvinok bada saki wa-pirikpirikate-wiesinok i saki sakiasano, me umu dame-usito."
Aria nemate sakia bada God Kanidi wirimuatata, di abagat abagat ono aviamo. Ononane, av kanigat da dawa yana kani onogat malipo sanomo.
Da av kani ono winimo Babel*, me maianane, aba onoga Godi muado nanum saki wa-pirikpirikate-wiesa, bada wi rereda di abagat abagat ono rimuaiamo.
*Wi Hibru sakigat "Babel" anim ovo otowanam oma "wa-pirikpirikata" nanogomo.
Source: Maiamaia Ubuwanam Ilikalava Ono Tete.Yenesis 1-11. The Story of the Beginning of Everything. Published by Friends of the Maia People, 2003.
Contributed by Wolfgang Kuhl
Information about Maia
http://www.ethnologue.com/language/kmu
Tower of Babel in Trans-New Guinea languages
Amele, Awara, Barai, Bimin, Binumarien, Blagar, Borong, Burum-Mindik, Dadibi, Faiwol, Guhu-Samane, Huli, Kamasau, Kamono, Kamula, Kanasi, Kanite, Komba, Kosarek, Kosena, Kyaka, Maia, Maring, Narak, Ngaing, Numanggang, Samberigi, Siroi, Tairora, Tuma-Irumu, Waris, Waskia, Yipma, Yongkom
Other Tower of Babel translations
By language | By language family