Flemish (Vlaams)
Flemish or Belgian Dutch (Belgisch-Nederlands) refers to the dialects of Dutch spoken in northern Belgium by about 6 million people. They differ to some extent from the Dutch spoken in the Netherlands in terms of intonation and pronunciation, and there are minor differences in vocabulary, including loanwords from French and English not found in Standard Dutch.
The word Flemish can refer to the language spoken in the former County of Flanders, specifically West Flemish, but has come to mean all the varieties of Dutch spoken in Belgium.
There are four main dialects of Flemish:
Brabantian (Braobans)
Brabantian is spoken in North Brabant province in the Netherlands, in Antwerp and Flemish Brabant provinces in Belgium, and in Brussels.
East Flemish (Oostvlaams)
East Flemish is spoken in the Belgian province of East Flanders, and in eastern parts of Zeelandic Flanders in the Netherlands. It is considered by some as a subdialect of Brabantian.
West Flemish (West-Vlams / West-Vloams)
West Flemish is spoken in western Belgium and neighbouring parts of France and the Netherlands by about 1.4 million people. It is part of a dialect continuum with Zeelandic dialects, which are spoken in Zeeland province in the Netherlands.
Limburgish is spoken by about 1.3 million people in Limburg and the northeast of Liege in Belgium, in Limburg in the Netherlands, and in Rhineland in Germany. In 1990 the regional government of the Walloon region in Belgium recognised Limburgish as a regional, indigenous language. It was given similar official recognition by the Dutch government in 1997, which was opposed by the Dutch Language Union (Nederlandse Taalunie).
Tussentaal
There is a semi-standarized colloquial form of Belgian Dutch known as Tussentaal ('in-between-language'), which is based partly on Brabantian and which is used between people from different regions.
Flemish pronunciation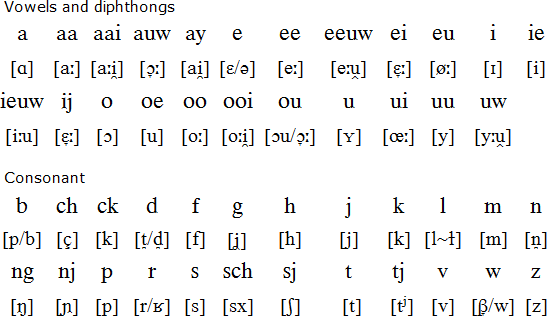 Information about Flemish | Phrases in West Flemish
Links
Information about Flemish
http://en.wikipedia.org/wiki/Flemish
http://en.wikipedia.org/wiki/West_Flemish
http://en.wikipedia.org/wiki/East_Flemish
http://en.wikipedia.org/wiki/Limburgish_language
http://en.wikipedia.org/wiki/Brabantic
Online Flemish lessons
http://nl.wikibooks.org/wiki/West-Vlaams
http://polymath.org/flemish.php
Germanic languages
Afrikaans, Alsatian, Bavarian, Cimbrian, Danish, Dutch, Elfdalian, English, Faroese, Flemish, German, Gothic, Hunsrik, Icelandic, Limburgish, Low German, Luxembourgish, Mòcheno, Norn, North Frisian, Norwegian, Old English, Old Norse, Pennsylvania German, Ripuarian, Saterland Frisian, Scots, Shetland(ic), Stellingwarfs, Swedish, Swiss German, West Frisian, Yiddish
Other languages written with the Latin alphabet