Kickapoo (Kikapú)
Kickapoo is an Algonquian language spoken by about 800 people in northeastern Kansas, central Oklahoma and southern Texas in the USA, and also in Múzquiz Municipality in Coahuila State in the north west of Mexico. It is closely related to Sauk and Fox.
The Kickapoo in Mexico had a form of whistled speech which they used to communicate over long distances, however this is largely forgotten now.
The Kickapoo people call themselves Kiikaapoa or Kiikaapoi, and in Mexico they are known as the Tribu Kikapú.
Kickapoo is still passed on in families in Mexico, however in the USA this is no longer the case, although efforts are being made to revitalise the language. Kickapoo is taught in some schools in Kansa and Texas, and also in Mexico.
Kickapoo alphabet and pronunciation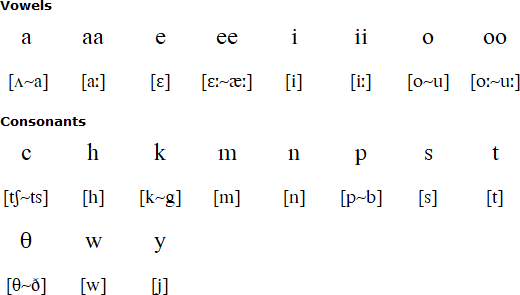 Kickapoo is a tonal language with high, low, rising and falling tones. Tone are marked as follows: a = low tone; á = high tone; aá = rising tone; áa = falling tone.
Source: http://www.native-languages.org/kickapoo_guide.htm
Links
Information about the Kickapoo language
https://en.wikipedia.org/wiki/Kickapoo_people#Language
http://www.native-languages.org/kickapoo.htm
https://en.wikipedia.org/wiki/Kickapoo_whistled_speech
https://www.ethnologue.com/language/kic
http://www.tolatsga.org/kick.html
Algonquian languages
Other languages written with the Latin alphabet