Oji-Cree (Anishininiimowin / ᐊᓂᔑᓂᓂᒧᐏᐣ)
Oji-Cree or Severn Ojibwa is a variety of Ojibwe, an Algonquian language, and is spoken in parts of northern Ontariao and at Island Lake in Manitoba in Canada by about 12,600 people.
Speakers of Oji-Cree call themselves Anishinini ('ordinary person') and their language Anishininiimowin ('language of ordinary people').
Oji-Cree is closely related to other varieties of Ojibwe and has been influenced significantly by the Cree language, particularly as a result of missionary activity by Cree speakers.
Oji-Cree syllabary and pronunciation
Oji-Cree is usually written with a version of Canadian Aboriginal Syllabics.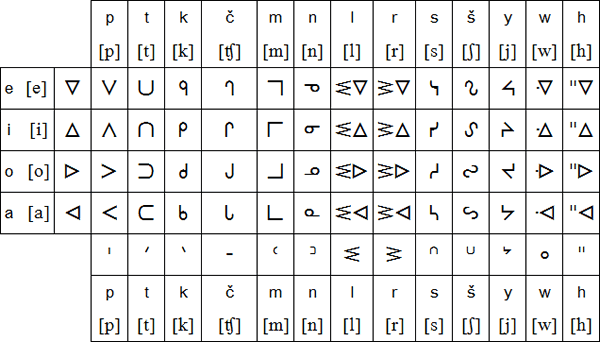 Sample texts in Oji-Cree
ᒥᓯᐌ ᐌᑎ ᑭᐌᑎᓄᐠ ᓂᐡᑕᒼ ᐊᓂᔑᓇᐯ ᑕᔑᑫᐎᓇᐣ ᐗᐗᓀ ᑕᒥᓭᐗᐠ ᐅᒋ ᑲᐱᐳᐠ ᒥᑲᓇ ᑲᐊᔭᑭᐸᓂᐣ ᐅᓴᒼ ᐃᑕᐡ ᓄᑯᒼ ᑲᑭ ᐱᐳᐠ ᐁᑲ ᐁᑭᑭᓯᓇᐠ ᐊᐱᐣ ᐁᑭ ᐅᒋᒪᒋᓭᐠ ᑲᐱᒪᐗᑕᓱᐗᐸᐣ ᐱᐳᓂ ᒪᑲᓇᐠ ᒥᑕᐡ ᐁᔑᓭᐠ ᐁᓄᑌᓭᐗᐨ ᐗᓯᑲᓂᐱᒥᑌ, ᒥᒋᒪᐣ ᒥᓇ ᐗᑲᐃᑫ ᐊᐸᒋᒋᑲᓇᐣ᙮
Source: http://www.languagegeek.com/algon/ojicree/ojc_example.html
Transliteration
Misiwe weti kiwetinok ništam anišinape tašikewinan wawane tamisewak oči kapipok mikana kaayakipanin osam itaš nokom kaki pipok eka ekikisinak apin eki očimačisek kapimawatasowapan piponi makanak mitaš ešisek enotesewač wasikanipimite, mičiman mina wakaike apačičikanan.
Links
Information about Oji-Cree
http://en.wikipedia.org/wiki/Oji-Cree_language
http://www.languagegeek.com/algon/ojicree/anishininimowin.html
Other languages written with Canadian Aboriginal Syllabics
Algonquian languages
Abenaki, Algonquin, Arapaho, Blackfoot, Cheyenne, Chippewa, Cree, Delaware, Fox, Massachusett, Miami, Míkmaq, Montagnais, Naskapi, Ojibwe, Oji-Cree, Ottawa, Potawatomi, Shawnee
Bamum, Blackfoot, Caroline Island Script, Carrier, Celtiberian, Cherokee, Cree, Cypriot, Eskayan, Hiragana, Iberian, Inuktitut, Katakana, Kpelle, Loma, Mende, Mwangwego, Ndjuká, Nüshu, Ojibwe, Vai, Yi