Munsee (Huluníixsuwaakan)
Munsee is an Eastern Algonquian language spoken on the Moraviantown Reserve in Ontario in Canada by 7 or 8 elderly people. Some younger people are also learning the language.
Munsee is also known as Munsee Delaware, Delaware or Ontario Delaware, and was formerly spoken in the area of New York City, including Long Island, Manhattan Island, Staten Island, northern New Jersey and northeastern Pennsylvania.
Munsee speakers call themselves Delaware in English, and Lunaape [lənáːpeːw] in Munsee. They call their language Huluníixsuwaakan [hə̀lə̆ni·xsəwá·kan].
Munsee alphabet and pronunciation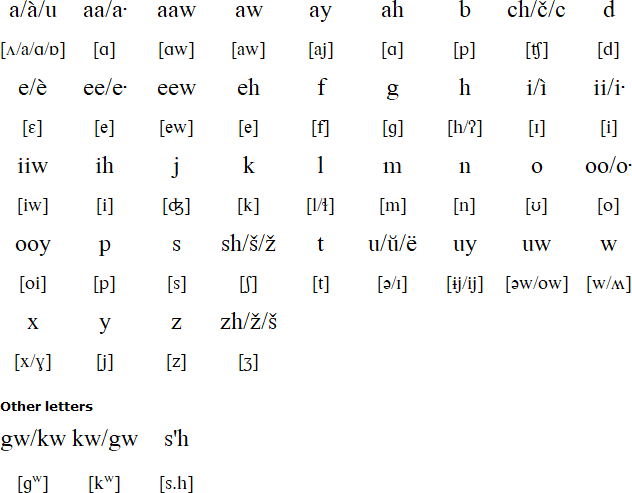 Download an alphabet chart for Munsee (PDF)
Information about Munsee pronunciation compiled by Wolfram Siegel
Links
Information about Munsee
https://en.wikipedia.org/wiki/Munsee_language
https://fr.wikipedia.org/wiki/Munsee
https://de.wikipedia.org/wiki/Munsee
https://www.ethnologue.com/language/umu
http://www.native-languages.org/munsee_guide.htm
Algonquian languages
Other languages written with the Latin alphabet