Mohegan
Mohegan is an Algonquian language formerly spoken in parts of New England and Long Island in the USA, which is currently being revived. The last native speaker of Mohegan, Fidelia Ann Hoscott Smith Fielding, also known as Dji'ts Bud dnaca (Flying Bird), died in 1908, and the diaries in which she wrote about her language and culture are being used in revival efforts. There is also some documentation of the language dating from the 17th and 18th centuries.
The Mohegan Language Project, which started in 2012, has produced learning materials for Mohegan, including lessons, a dictionary and online materials, and is working on a grammar of the language.
Mohegan is also known as Mohegan-Pequot, Mohegan-Pequot-Montauk, Secatogue, Stockbridge and Shinnecock-Poosepatuck. Dialects include Mohegan, Pequot, Montauk, Niantic and Shinnecock, and these correspond to the tribes who speak them. The Mohegan people, who currently number between 1,400 and 1,700, have been federally recognised since 1994 as the Mohegan Tribe of Indians of Connecticut (MTIC) and were historically based in southern Connecticut.
Mohegan pronunciation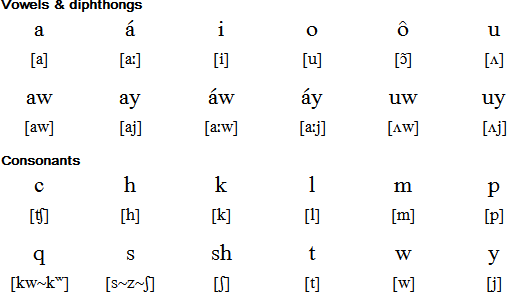 Notes
When h follows a vowel and precedes a consonant if indicates that the consonant is preaspirated
s is pronounced [z] when between vowels and at the beginning of words. When preceded by an h is is pronounced [s], and in the cluster sk, sp and sq it can be pronounced [s] or [ʃ]
k, p and t are unaspirated
An apostrophe is sometimes used indicate that letters are pronounced separately
Information about Mohegan | Numbers in Mohegan
Links
Information about the Mohegan people and language
https://en.wikipedia.org/wiki/Mohegan-Pequot_language
https://en.wikipedia.org/wiki/Fidelia_Fielding
http://www.moheganlanguage.com/
http://www.native-languages.org/mohegan.htm
Algonquian languages
Other languages written with the Latin alphabet