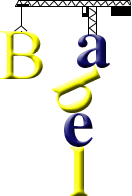 Bábil / The Tower of Babel (Genesis 11: 1-9)
Gaeilge (Irish)
---
An Biobla Naomhtha (1690)
Agus do bhí an domhan uile ar éinteanguidh amháin agus ar éanghlór.
Agus tarla ar naiſtríughadh dhóibh ó náird ſhoir go bhfíaradar réiteach a ttír Shínáir, agus gur chomhnuigheadar ann ſin.
Agus a dubhradar gach áon ré chéile gluáiſidh, déunam brícidh, agus loiſcionn go hiomlán íad: agus is bríce do bhi aca mar chloich, agus pic thalmhuighe mar mhoirtéar
Agus a dubhradar, gluáiſidh déunam cathair dhuinn féin, deagla go ſpréighfigh ſinn ar feadh na talmhan go huilidhe.
Agus táinic an tighearna a nſhúas dſéachuin na caithreach, agus an tuir do rinneadar clann na ndáoine.
Agus a dubhairt an tighearna; féuch is áon an pobal uile, agus is éinteanga atá aca uile, agus do thofuigheadar fo do dhéunamh, agus a nóis ni coinneóchar éinni úatha dar ſháoileadar a dhéunamh.
Ag fúd chuiguinn, déunuimne ſíos agus buaidhrin a nglór, ionnus nach dtuigfid ſiad glór a chéile.
Mar ſin do ſgáoil an tighearna ó chéile íad as ſin ar feadh an cathair do thógbhail.
Is uime ſin goirthear Bábel dainm dhi, do chionn gur bhuaidhir an tighearna annſin teanga an domhuín uile, agus do ſpréigh an tighearna as ſin íad ar feadh na talmhan uile.
Hear a recording of this text by Aonghus Ó Lochlainn
An Bíobla Naofa (1981)
Labhair daoine an teanga chéanna agus na focail chéanna ar fud an domhain mhóir.
Agus ag teacht anoir dóibh thángadar ar mhachaire i dtír Shíonár agus chuireadar fúthu ann.
Agus dúradar lena chéile: "Téanam agus déanaimis brící agus tugaimis tine dóibh" - brící a bhíodh acu in áit cloch agus pic in áit móirtéil -
"Téanam," ar siad, "agus tógaimis cathair dúinn féin, agus túr agus a bharr ag baint neimhe amach in airde. Tuillimis clú dúinn féin sula scaipfí ar fud chlár cruinne go léir sinn."
Ansin tháinig an Tiarna anuas go bhfeifeadh sé an chathair agus an túr a thóg na daoine daonna.
"Féach," arsa an Tiarna, "aon mhuintir amháin iad le haon teanga amháin acu go léir. Níl sa mhéid seo ach tús na mbeart a dhéanfaidh siad; níl aon ní dá bhfuil acu á bheartú nach bhféadfaidh siad a chur i gcrích.
Téanam, téimis síos agus déanaimis cíor thuathail dá dteanga ar an bhfód i dtreo nach dtuigfidís caint a chéile a thuilleadh."
Agus chuir an Tiarna fán orthu ón áit sin ar fud chlár na cruinne ar fad, agus scoireadar de thógáil na cathrach.
Tugadh Bábil uirthi uime sin mar go ndearna an Tiarna cíor thuathail de theangacha an domhain go léir ansiúd; agus chuir an Tiarna fán orthua ón áit sin ar fud chlár na cruinne go léir.
Hear a recording of this text by Aonghus Ó Lochlainn
---
Irish learning software
http://www.linguashop.com/irish-language
Irish language | Gaelic script | Ogham alphabet | Phrases | Numbers | Colours | Family words | Terms of endearment | Time | Weather | Proverbs | Comparison of Celtic languages | Celtic cognates | Tower of Babel | Tongue twisters | Songs | Learning materials | Books about Ogham | My podcast about Irish | Links
Tower of Babel in Celtic languages
Breton, Cornish, Cumbric, Irish, Manx, Scottish Gaelic, Welsh
Other Tower of Babel translations
By language | By language family
---
If you need to type in many different languages, the Q International Keyboard can help. It enables you to type almost any language that uses the Latin, Cyrillic or Greek alphabets, and is free.
If you like this site and find it useful, you can support it by making a donation via PayPal or Patreon, or by contributing in other ways. Omniglot is how I make my living.
Note: all links on this site to Amazon.com
, Amazon.co.uk
and Amazon.fr
are affiliate links. This means I earn a commission if you click on any of them and buy something. So by clicking on these links you can help to support this site.