Ogham (᚛ᚑᚌᚐᚋ᚜)
Ogham is an alphabet that appears on monumental inscriptions dating from the 4th to the 6th century AD, and in manuscripts dating from the 6th to the 9th century. It was used mainly to write Primitive and Old Irish, and also to write Old Welsh, Pictish and Latin. It was inscribed on stone monuments throughout Ireland, particuarly Kerry, Cork and Waterford, and in England, Scotland, the Isle of Man and Wales, particularly in Pembrokeshire in south Wales.
The name Ogham is pronounced [ˈoːm] or [ˈoːəm] in Modern Irish, and it was spelt ogam and pronounced [ˈɔɣam] in Old Irish. Its origins are uncertain: it might be named after the Irish god Ogma, or after the Irish phrase og-úaim (point-seam), which refers to the seam made by the point of a sharp weapon. Ogham is also known as or ogham craobh (tree ogham) beth luis fearn or beth luis nion, after the first few letters.
Ogham probably pre-dates the earliest inscriptions - some scholars believe it dates back to the 1st century AD - as the language used shows pre-4th century elements. It is thought to have been modelled on or inspired by the Roman, Greek or Runic scripts. It was designed to write Primitive Irish and was possibly intended as a secret form of communication.
While all surviving Ogham inscriptions are on stone, it was probably more commonly inscribed on sticks, stakes and trees. Inscriptions are mostly people's names and were probably used to mark ownership, territories and graves. Some inscriptions in primitive Irish and Pictish have not been deciphered, there are also a number of bilingual inscriptions in Ogham and Latin, and Ogham and Old Norse written with the Runic alphabet.
Notable features
Writing direction: inscribed around the edges of rocks running from bottom to top and left to right, or left to right and horizontally in manuscripts.
Number of letters: 25, which are grouped into five aicmí (sing. aicme = group, class). Each aicme is named after its first letter. Originally Ogham consisted of 20 letters or four aicmí; the fifth acime, or Forfeda, was added for use in manuscripts.
Writing surfaces: rocks, wood, manuscripts
Letters are linked together by a solid line.
Used to write: Primitive and Old Irish, Pictish, Old Welsh and Latin
The Ogham alphabet
The letters are shown in their vertical and horizontal variants. The pronunciation is for Primitive Irish, the language used in the majority of Ogham inscriptions. The names and sounds represented by the letters uath and straif are uncertain. There are many different version of the letter names - the standard ones are used here [with the Primitive Irish ones, where known, in bracketts] - others can be found at: evertype.com.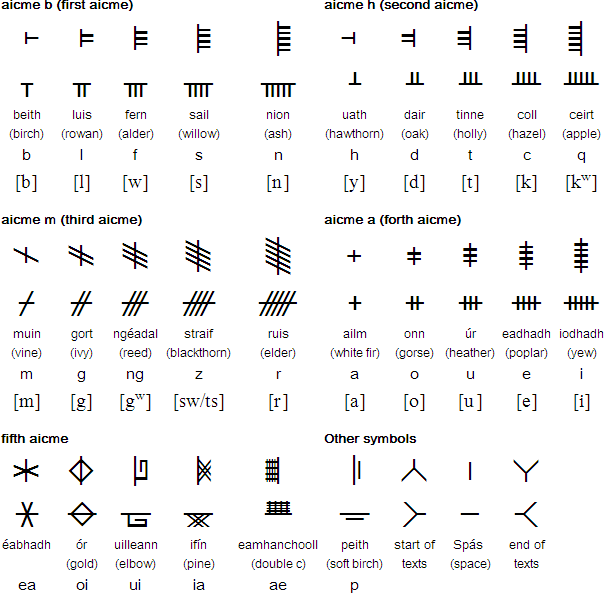 Downloads
Download the Ogham alphabet chart (Excel)
Sample texts in Ogham

Ogham stone form Mount Melleray in County Waterford in Ireland.
Transliteration
Na Maqi Lugudeca Muc Cunea
Translation
The Sons of Lugudeca, Son of Cunea
Source: http://www.prehistoricwaterford.com/news/the-stones/
---
Ogham stone found on Fardel Farm at Cornwood in Devon, and donated to the British Museum in 1861 (photo by Simon Ager).
The Ogham inscription reads " ᚄᚃᚐᚊᚊᚒᚉᚔ  |  ᚋᚐᚊᚔᚊᚔᚉᚔ ", which transliterated is "SFAQQUCI | MAQIQICI", and means "Of Safaqqucus, son of Qicus" or "Of Safaqqucus" and "Of Maqiqicus / Of the son of Qicus".
The Latin inscription on the front reads FANONI MAQVIRINI" and means "Of Fanonus, son of Rinus". On the back there is a Latin inscription that reads "SAGRANVI" ("Of Sagranuus").
---
Ogham text in Leabhar Bhaile an Mhóta (The Book of Ballymote), written in 1390 or 1391.

Irish language | Gaelic script | Ogham alphabet | Phrases | Numbers: Modern Irish, Middle Irish, Old Irish | Colours | Family words | Terms of endearment | Time | Dates | Weather | Proverbs | Comparison of Celtic languages | Celtic cognates | Celtiadur | Tower of Babel | Tongue twisters | Songs | Learning materials | Books about Ogham | My podcast about Irish | Links
Links
Information about Ogham
http://en.wikipedia.org/wiki/Ogham
http://en.wikipedia.org/wiki/Ogham_inscriptions
http://en.wikipedia.org/wiki/Scholastic_ogham
http://www.evertype.com/standards/og/ogmharc.html
https://ogham.glasgow.ac.uk/
Ogham transliterator
https://ogham.co/
Free Ogham fonts
http://www.evertype.com/celtscript/ogfont.html
http://www.csupomona.edu/~jcclark/ogham
Photos of Ogham stones with transliterations of the inscriptions
http://titus.uni-frankfurt.de/ogam/ogsing.htm
Examples of Ogham inscriptions
http://en.wikipedia.org/wiki/Ogham_inscription
Details of the Book of Ballymote
http://en.wikipedia.org/wiki/Book_of_Ballymote
http://www.ria.ie/library/special-collections/manuscripts/book-of-ballymote.aspx
http://www.maryjones.us/ctexts/bb.html
http://staffweb.itsligo.ie/staff/jforan/Irish_project/Alt14/alt14a.htm
Translating Ancient Ogham - an introduction to linguistic archaeology in Ireland
http://www.celticgrounds.com/chapters/ogham_translat.htm
ALPHABETUM - a Unicode font specifically designed for ancient scripts, including classical & medieval Latin, ancient Greek, Etruscan, Oscan, Umbrian, Faliscan, Messapic, Picene, Iberian, Celtiberian, Gothic, Runic, Old & Middle English, Hebrew, Sanskrit, Old Nordic, Ogham, Kharosthi, Glagolitic, Old Cyrillic, Phoenician, Avestan, Ugaritic, Linear B, Anatolian scripts, Coptic, Cypriot, Brahmi, Old Persian cuneiform: http://guindo.pntic.mec.es/~jmag0042/alphabet.html
Celtic languages
Breton, Cornish, Irish, Manx, Scottish Gaelic, Welsh
A-chik Tokbirim, Adinkra, ADLaM, Armenian, Avestan, Avoiuli, Bassa (Vah), Beitha Kukju, Beria (Zaghawa), Borama / Gadabuursi, Carian, Carpathian Basin Rovas, Chinuk pipa, Chisoi, Coorgi-Cox, Coptic, Cyrillic, Dalecarlian runes, Elbasan, Etruscan, Faliscan, Fox, Galik, Georgian (Asomtavruli), Georgian (Nuskhuri), Georgian (Mkhedruli), Glagolitic, Global Alphabet, Gothic, Greek, Irish (Uncial), Kaddare, Kayah Li, Khatt-i-Badí', Khazarian Rovas, Koch, Korean, Latin, Lepontic, Luo Lakeside Script, Lycian, Lydian, Manchu, Mandaic, Mandombe, Marsiliana, Medefaidrin, Messapic, Mongolian, Mro, Mundari Bani, Naasioi Otomaung, N'Ko, North Picene, Nyiakeng Puachue Hmong, Odùduwà, Ogham, Old Church Slavonic, Oirat Clear Script, Ol Chiki (Ol Cemet' / Santali), Old Italic, Old Nubian, Old Permic, Ol Onal, Orkhon, Osage, Oscan, Osmanya (Somali), Pau Cin Hau, Phrygian, Pollard script, Runic, Székely-Hungarian Rovás (Hungarian Runes), South Picene, Sutton SignWriting, Sunuwar, Tai Viet, Tangsa, Todhri, Toto, Umbrian, (Old) Uyghur, Wancho, Yezidi, Zoulai
Page last modified: 27.05.23
[top]
---

Why not share this page:

If you like this site and find it useful, you can support it by making a donation via PayPal or Patreon, or by contributing in other ways. Omniglot is how I make my living.
Note: all links on this site to Amazon.com
, Amazon.co.uk
and Amazon.fr
are affiliate links. This means I earn a commission if you click on any of them and buy something. So by clicking on these links you can help to support this site.
Get a 30-day Free Trial of Amazon Prime (UK)
If you're looking for home or car insurance in the UK, why not try Policy Expert?
[top]