Useful Thai phrases
A collection of useful phrases in Thai, a Tai-Kadai language spoken mainly in Thailand. Click on the English phrases to see them in many other languages.
Key to abbreviations: m = said by men, f = said by women
This page mainly uses the Thai2English transliteration system for Thai, or the system used in Lonely Planet Thai phrasebooks.
Language difficulties
In the hotel
Making a lunch/dinner date
Eating out
Emergencies
Special occasions
Other phrases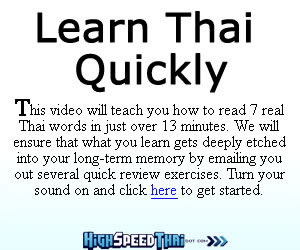 Thai audio files by Learn Thai Podcast
Download the audio files (Zip format, 2.7MB)
If you would like to make any corrections or additions to this page, or if you can provide recordings, please contact me.
Other collections of Thai phrases
http://www.phuket.net/visit-phuket/tips/thai-phrases.htm
http://thaiarc.tu.ac.th/thai/thphrase.htm
http://www.seasite.niu.edu/Thai/spokenthai/unit2/Useful_words/usefulword.htm
http://www.mypattaya.com/80thaiphrases.asp
http://www.phrasebook.thai-isan-lao.com
http://lingopolo.com/thai/phrases
ThaiPod101.com - Learn Thai with Free Podcasts
Learn Thai with Glossika Mass Sentences
Information about Thai | Thai phrases | Tower of Babel in Thai | Thai learning materials
Phrases in Tai-Kaidai languages