Babine-Witsuwit'en
Babine-Witsuwit'en is an Athabaskan language spoken in parts of British Columbia in Canada by about 430 people. It is closely related to Carrier, and is often called Northern Carrier or Western Carrier, but linguists generally classify it as a separate language.
There are two main dialects of Babine-Witsuwit'en: Babine (Nedut'en), which is spoken around Babine, Trembleur and Takla Lakes; and Witsuwit'en, which is spoken in the Bulkley Valley by Broman and Skins Lakes. These dialects are very similar and differ main in pronunciation. Babine has 220 speakers, 161 of whom are fluent, and Witsuwit'en has 192 speakers with 131 of them fluent. The speakers are mostly adults - only a handful of children speak the language.
Babine-Witsuwit'en alphabet and pronunciation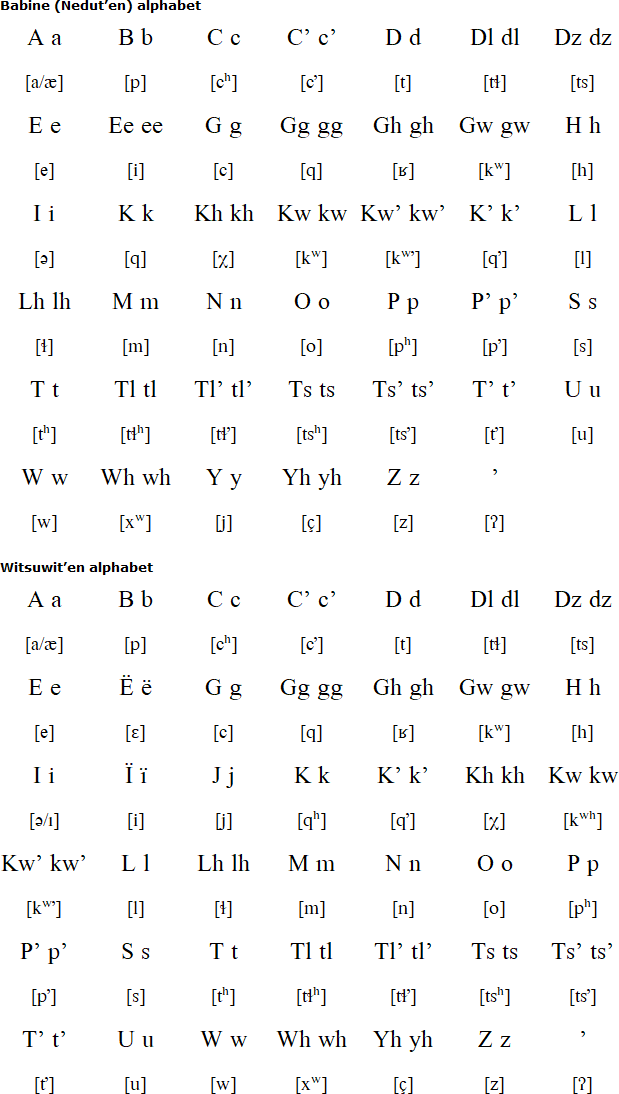 Download an alphabet chart for Babine-Witsuwit'en (Excel)
Sample text
Niwhdzï bï uzdïlhye k'ay skak nis widïzilh hiyï 'itadzïlh, 'enï niwhbe tsëh naantadzïl, niwhkinic hiyï'itadzïlh.
Translation
It gives us a beautiful feeling to know that our children will stand for us and use our language.
Details of Babine-Witsuwit'en alphabet and pronuciation and the sample text supplied by Michael Peter Füstumum
Links
Information about Babine-Witsuwit'en
https://en.wikipedia.org/wiki/Babine-Witsuwit'en_language
http://www.firstvoices.com/FirstVoices/327/PDFs/20081201192039906/The Wet'suwet'en Language.pdf
http://www.ethnologue.com/language/bcr
Na-Dené languages
Apache, Babine-Witsuwit'en, Chilcotin, Chipewyan, Deg Xinag, Dane-zaa (Beaver), Eyak, Gwich'in, Hän, Hupa, Jicarilla, Koyukon, Mescalero-Chiricahua, Navajo, Sarcee, Sekani, Tłı̨chǫ (Dogrib), Tutchone
Other languages written with the Latin alphabet