Hupa (Na:tinixwe Mixine:whe')
Hupa is an Athabaskan language spoken along the lower reaches of the Trinity river in Humboldt County in northwest California. There are around 30 speakers. Efforts are being made to revitalise the language.
Hupa alphabet and pronunciation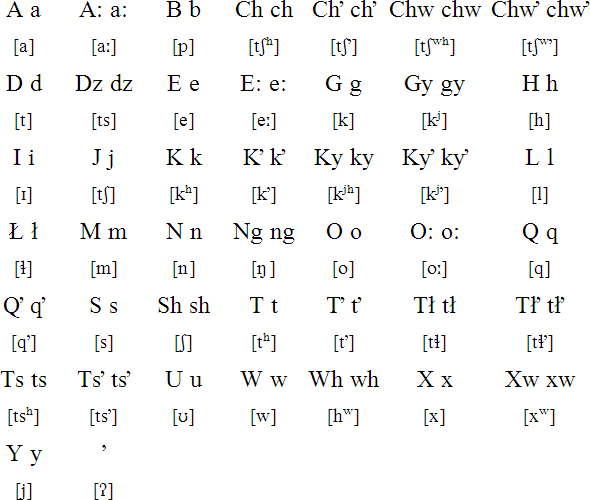 Download an alphabet chart for Hupa (Excel)
Sample text in Hupa
Whe:'en do:n' Łe:l-ding na-wha:y-yey.
Translation
I myself truly come from Łe:l-ding.
Details of Hupa supplied by Michael Peter Füstumum
Links
Information about the Hupa language
https://en.wikipedia.org/wiki/Hupa_language
http://www.ethnologue.com/language/hup
http://www.dcn.davis.ca.us/~ammon/danny/Hupa/HupaLanguage.html
http://linguistics.berkeley.edu/~survey/languages/hupa.php
Hupa Online dictionary and texts
http://nalc.ucdavis.edu/hupa/hupa-lexicon.html
Na-Dené languages
Apache, Babine-Witsuwit'en, Chilcotin, Chipewyan, Deg Xinag, Dane-zaa (Beaver), Eyak, Gwich'in, Hän, Hupa, Jicarilla, Koyukon, Mescalero-Chiricahua, Navajo, Sarcee, Sekani, Tłı̨chǫ (Dogrib), Tutchone
Other languages written with the Latin alphabet