Chilcotin (Tŝinlhqut'in)
Chilcotin is a Northern Athabaskan language spoken by about 860 people in British Columbia in Canada, mainly in Nemiah Valley west of Williams Lake. The language is also known as Tsilhqot'in, Tsilhqut'in or Tzilkotin, and the native name for the language is Tŝinlhqut'in, [ts̠ˤʰᵊĩɬqʰot'in], which means "people of the red ochre river".
The Naghtaneqed Elementary Jr. Secondary School runs Chilcotin language classes from Kindergarten to grade nine, and also a culture week. Chilcotin immersion daycare is also available for infants and preschoolers.
Chilcotin alphabet and pronunciation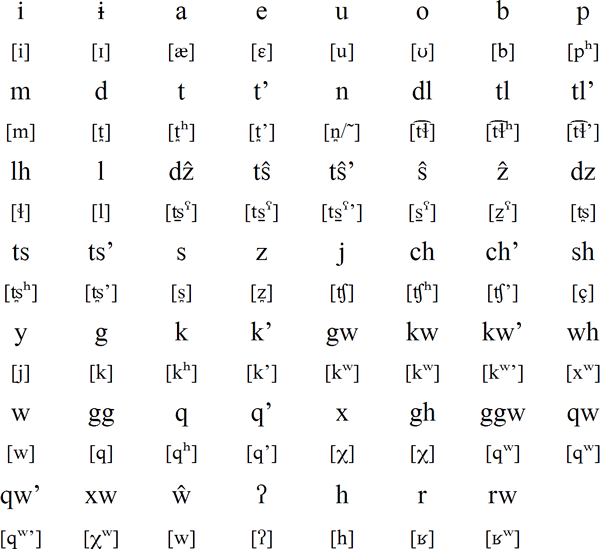 Download a PDF of the Chilcotin alphabet (in German)
Details of Chilcotin pronunciation provided by Wolfram Siegel
Sample text
Gunzun nexwanaghinyah Tsilhqot'in ch'ih yaghultɨg.
Translation
It is good you have come, let us speak Chilcotin!
Source: http://www.firstvoices.com/en/Tsilhqotin-Xeni-Gwetin
Links
Information about the Chilcotin language
https://en.wikipedia.org/wiki/Chilcotin_language
http://www.ethnologue.com/language/clc
http://www.ydli.org/langs/chilcotin.htm
http://www.native-languages.org/chilcotin.htm
http://www.firstvoices.com/en/Tsilhqotin-Xeni-Gwetin
Na-Dené languages
Apache, Babine-Witsuwit'en, Beaver, Chilcotin, Chipewyan, Deg Xinag, Eyak, Gwich'in, Hän, Hupa, Jicarilla, Koya, Koyukon, Mescalero-Chiricahua, Navajo, Sarcee, Sekani, Tłı̨chǫ (Dogrib), Tutchone
Other languages written with the Latin alphabet