Beaver (Dane-zaa Záágéʔ / ᑕᓀᖚ)
Beaver is an Athabaskan language spoken in parts of British Columbia and Alberta in Canada by about 160 people. The language is also known as Tsattine and the native name for it is Dane-zaa Záágéʔ. It is closely related to Alberta Slavey (Dene Dháh), Sekani, Sarcee (Tsuut'ina), Chipewyan (Dene Sųłiné) and Kaska (Dene Zā́gé')
There are a number of dialects of Beaver: Boyer River and Child Lake are spoken in Alberta by the Beaver First Nation; and Prophet River, Blueberry River, Doig River (Hanás̱ Saahgéʔ), Halfway River and West Moberly Lake are spoken in British Columbia by groups named after these rivers and lake.
Since the 1980s English has become the dominant language in formerly Beaver-speaking communities. Few children speak the language any more, and most remaing speakers are elderly.
During the 1800s missionaries developed ways to write Beaver using the Latin alphabet and a syllabic script that was originally developed for Ojibwe. Since 1962 Marshall and Jean Holdstock and Beaver speakers from Doig River have worked to analyze the sounds of Beaver and develop a new orthography for it. They have also worked with Wycliff Bible Translators and SIL to produce a dictionary and other books. Since 1999 more has been done to document the language and keep it alive.
Beaver alphabet and pronunciation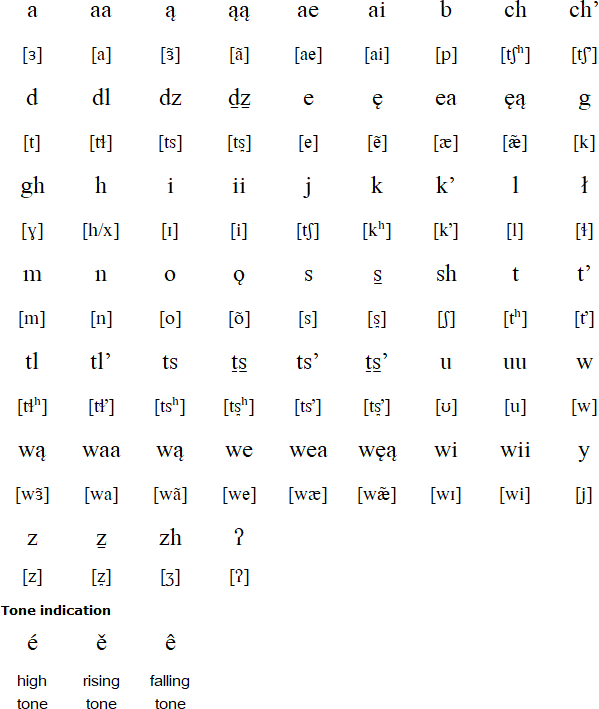 Hear the sounds of Beaver at
http://www.virtualmuseum.ca/sgc-cms/expositions-exhibitions/danewajich/english/resources/pronuciation_guide.php
Sample text
Aadzęhdǫ́h tǫ́hch'iidǫ́h jii, Madáts'atl'ǫje dane yéhjii. Dane yadááhdzéʔ háá ghędaa. Dane yadááḏẕé dáánejiilh.
Translation
A long time ago, they called this Madáts'atl'ǫje [Snare Hill]. People depended on this place to live. People depended on this place to survive.
Source: http://www.virtualmuseum.ca/sgc-cms/expositions-exhibitions/danewajich/english/stories/stories.php
Information about Beaver pronunciation and sample text provided by Michael Peter Füstumum
Links
Information about Beaver
https://en.wikipedia.org/wiki/Dane-zaa_language
http://www.ethnologue.com/language/bea
http://www.firstvoices.com/en/Tsaa_Dane/welcome
http://www.native-languages.org/beaver.htm
http://www.virtualmuseum.ca/sgc-cms/expositions-exhibitions/danewajich/english/resources/language.php
Na-Dené languages
Apache, Babine-Witsuwit'en, Beaver, Chilcotin, Chipewyan, Deg Xinag, Eyak, Gwich'in, Hän, Hupa, Jicarilla, Koya, Koyukon, Mescalero-Chiricahua, Navajo, Sarcee, Sekani, Tłı̨chǫ (Dogrib), Tutchone
Other languages written with the Latin alphabet