Tłı̨chǫ (Tłı̨chǫ Yatıì)
Tłı̨chǫ belongs to the Northern Athabaskan branch of the Na-Dené language family, and is spoken in the Northwest Territories of Canada by 2,640 people. It is also known as Dogrib, and is spoken in the region between the Great Slave Lake and the Great Bear Lake.
The largest Tłı̨chǫ community in that region is Behchokǫ̀ ('Big Knife'), which was formerly known as Rae-Edzo. There are also Dogrib communities in Whatì (Lac la Martre), Gamèti (Rae Lakes), Wekweeti (Snare Lake), Dettah, and N'Dilo, a sub-community of Somba K'e (Yellow Knife).
Tłı̨chǫ alphabet and pronunciation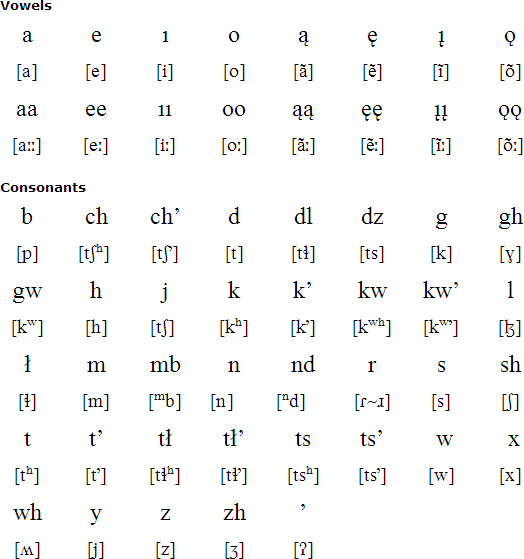 Notes
nasal vowels are marked by an ogonek or wįghǫą ('its little nose'), e.g. ą
low tones are marked with a grave accent or wets'aà ('its hat'), e.g. à
high tones are not marked
Download an alphabet chart for Tłı̨chǫ (Excel)
Sample text
Dii sa naet'aa, dii deh nı̨ı̨lı̨ı̨, dii dè nàgoèhdǫ-le nı̨dè ası̀i wets'à goet'ǫ hǫı̨lı̨ ha-le.
Translation
As long as the sun will rise, as long as the rivers will flow, if the land is not moved, we cannot be limited from our way of life.
Source: http://www.tlicho.ca/agencies/tlicho-unicode-words
Information about Tłı̨chǫ | Numbers in Tłı̨chǫ | Tower of Babel in Tłı̨chǫ
Links
Information about Tłı̨chǫ
http://en.wikipedia.org/wiki/Tłı̨chǫ_language
http://www.ethnologue.com/language/dgr
http://www.languagegeek.com/dene/tlicho/tlicho.html
http://www.ece.gov.nt.ca/official-languages/aboriginal-languages/nwt-official-aboriginal-languages/tlicho-dogrib
Online Tłı̨chǫ dictionary
http://tlicho.ling.uvic.ca
Tłı̨chǫ (community website)
http://www.tlicho.ca
Na-Dené languages
Apache, Babine-Witsuwit'en, Chilcotin, Chipewyan, Deg Xinag, Dane-zaa (Beaver), Eyak, Gwich'in, Hän, Hupa, Jicarilla, Koyukon, Mescalero-Chiricahua, Navajo, Sarcee, Sekani, Tłı̨chǫ (Dogrib), Tutchone
Other languages written with the Latin alphabet