Deg Xinag (Degexit'an)
Deg Xinag is a Northern Athabaskan language spoken along the lower Yukon River in Alaska in the USA. It is spoken by the Deg Hit'an peoples in Shageluk, Anvik and Holy Cross, and in 2007 there were 40 native speakers, and 280 Deg Hit'an.
The language is also known as Ingalik, which comes from the Yup'ik word Ingqiliq (Indian), and is considered perjorative.
There are two main dialects: Yukon, or Yukon Deg Xinag / Yukon Ingalik, and Kuskowim, or Kuskokwim Deg Xinag / Kuskokwim Ingalik.
Deg Xinag was first documented in the late 19th century. During the 20th century a number of religous and other works were translated into the language.
Deg Xinag pronunciation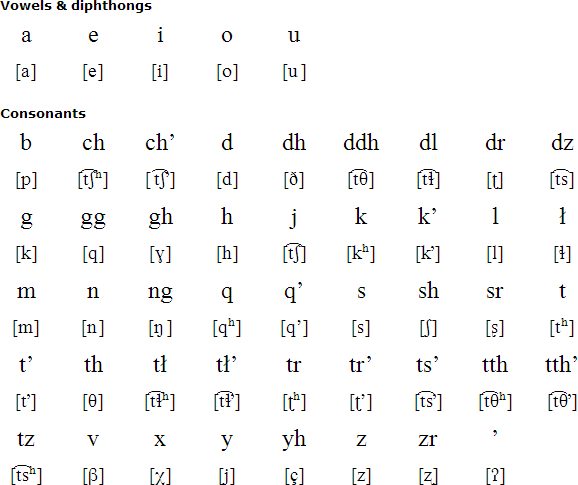 Download a PDF showing Deg Xinag pronunciation (in German)
Some information about Deg Xinag pronunication provided by Wolfram Siegel
Sample text (The Lord's Prayer)
Dennaqwu Tho, yu ye¢edonen, ñi erzre yian ñizren. Diñita yuqhotsu denna ñitsuqutiçda¢hl Dennatiq. Yuqhotsu hokaidiñitaitsun diñita hokuitlne, go ñan wukudzu, yu yit huku. Gout dran dennagu nuxaintltçun denna tloñuaiq, drantu qounnet. Yithoitsun yuqhotsu dennagu trohaidtuqtsun ditroutantsun kuçqunihlneq, yuqhotsu denna qavwugu trohaidtuqtsun tdu denna quhlantsun utdoxwun kuçqutdradlniq hukudutrihlan. Yithoitsun denna oqo quqaidtroç tuqoitsun denna tiçihltaq; Dahlinni trohaidtuqtu qoxogitdu noundennañihltaiq. Kwatdedl nitde yian Dennatiq eñilan, eñitlitç, eñizren, tsuqoyan. Amen.
Source: http://mammana.org/bcp/deg_xinag/
Another version of this text
Dinaxito' yoyet dhedo ts'in' ngi'ezre' yan' titl'i'o. Vighun' deningidhit ts'in'ngixiyo' axa yoyet xiq'i go ngan'qogg dighenax. Go dranh xonet dina vav lay dinatl'ongila. Ngighu gits'i ditr'it'anh da' dinaghun' q'ith xinijneyh. Dinaghun' gits'i dit'anhin xivighu q'ith tr'ixinijneyh ts'ixiq'at. Tr'ixet'uxdi xits'idz dinatighelalin. Tr'ixet'ux ts'in' dinak'odz xindingijnek.
Source: http://www.ankn.uaf.edu/curriculum/PhD_Projects/BethLeonard/LeonardDissertation.pdf
Supplied by Michael Peter Füstumum
Information about Deg Xinag | Numbers in Deg Xinag
Links
Information about Deg Xinag
https://en.wikipedia.org/wiki/Deg_Xinag_language
https://fr.wikipedia.org/wiki/Deg_hit'an
http://www.ethnologue.com/18/language/ing
http://www.uaf.edu/anla/collections/deg_xinag/
Na-Dené languages
Apache, Babine-Witsuwit'en, Beaver, Chilcotin, Chipewyan, Deg Xinag, Eyak, Gwich'in, Hän, Hupa, Jicarilla, Koya, Koyukon, Mescalero-Chiricahua, Navajo, Sarcee, Sekani, Tłı̨chǫ (Dogrib), Tutchone
Other languages written with the Latin alphabet