The Tower of Babel (Genesis 11: 1-9)
Ўзбек / O'zbek (Uzbek)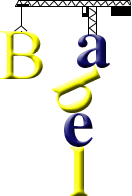 Бобил минораси (Cyrillic alphabet)
Бутун ер юзида битта тил бўлиб, ҳамма одамлар бир хил сўзлашардилар.
Одамлар шарқдан кўчиб, Шинар еридаги бир текисликка келдилар ва ўша ерда жойлашдилар
Одамлар бир–бирларига: "Келинглар, ғишт қуйиб, яхшилаб пиширайлик", дедилар. Шундай қилиб, улар қурилиш учун ғиштдан, қоришма учун қора сақичдан фойдаланадиган бўлдилар.
Кейин одамлар айтдилар: "Келинглар, ўзимиз учун шаҳар қурайлик, шаҳар минорасининг чўққилари осмонга тегиб турсин. Шу тариқа ном таратайлик. Акс ҳолда биз бутун ер юзига тарқалиб кетамиз."
Одамлар қураётган шаҳарни ва минорани кўриш учун Эгамиз пастга тушди.
Эгамиз деди: "Қаранглар, ҳаммаси битта халқ, ҳаммасининг тили бир! Бу ҳали улар қилмоқчи бўлган ишнинг бошланиши, холос. Ҳадемай, улар кўнглига келган ишни қилишга қодир бўладилар.
Қани, пастга тушайлик–да, уларнинг тилини аралаштириб юборайлик, токи бирининг гапини иккинчиси тушунолмай қолсин."
Шундай қилиб, Эгамиз уларни бу ердан бутун ер юзи бўйлаб тарқатиб юборди. Одамлар шаҳар қурилишини тўхтатдилар.
Эгамиз ҳамма одамларнинг тилини шу ерда чалкаштириб, уларнинг ўзларини бутун ер юзига тарқатиб юборгани учун, шаҳарнинг номи Бобил бўлиб қолди.
Bobil minorasi (Latin alphabet)
Butun yer yuzida bitta til bo'lib, hamma odamlar bir xil so'zlashardilar.
Odamlar sharqdan ko'chib, Shinar yeridagi bir tekislikka keldilar va o'sha yerda joylashdilar.
Odamlar bir–birlariga: "Kelinglar, g'isht quyib, yaxshilab pishiraylik", dedilar. Shunday qilib, ular qurilish uchun g'ishtdan, qorishma uchun qora saqichdan foydalanadigan bo'ldilar.
Keyin odamlar aytdilar: "Kelinglar, o'zimiz uchun shahar quraylik, shahar minorasining cho'qqilari osmonga tegib tursin. Shu tariqa nom tarataylik. Aks holda biz butun yer yuziga tarqalib ketamiz."
Odamlar qurayotgan shaharni va minorani ko'rish uchun Egamiz pastga tushdi.
Egamiz dedi: "Qaranglar, hammasi bitta xalq, hammasining tili bir! Bu hali ular qilmoqchi bo'lgan ishning boshlanishi, xolos. Hademay, ular ko'ngliga kelgan ishni qilishga qodir bo'ladilar.
Qani, pastga tushaylik–da, ularning tilini aralashtirib yuboraylik, toki birining gapini ikkinchisi tushunolmay qolsin."
Shunday qilib, Egamiz ularni bu yerdan butun yer yuzi bo'ylab tarqatib yubordi. Odamlar shahar qurilishini to'xtatdilar.
Egamiz hamma odamlarning tilini shu yerda chalkashtirib, ularning o'zlarini butun yer yuziga tarqatib yuborgani uchun, shaharning nomi Bobil bo'lib qoldi.
Information about Uzbek | Phrases | Numbers | Tower of Babel | Learning materials
Tower of Babel in Turkic languages
Altay, Azeri, Bashkir, Chuvash, Crimean Tatar, Karakalpak, Kazakh, Kumyk, Kyrgyz, Nogai, Tatar, Turkish, Turkmen, Tuvan, Uyghur, Uzbek, Yakut
Other Tower of Babel translations
By language | By language family
---
If you need to type in many different languages, the Q International Keyboard can help. It enables you to type almost any language that uses the Latin, Cyrillic or Greek alphabets, and is free.
If you like this site and find it useful, you can support it by making a donation via PayPal or Patreon, or by contributing in other ways. Omniglot is how I make my living.
Note: all links on this site to Amazon.com
, Amazon.co.uk
and Amazon.fr
are affiliate links. This means I earn a commission if you click on any of them and buy something. So by clicking on these links you can help to support this site.