The Tower of Babel (Genesis 11: 1-9)
Türkmen / Түркmен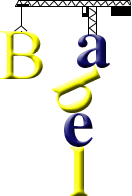 Бабыл минарасы (Cyrillic alphabet)
Тутуш ер йүзүнде бир дил, бирмеңзеш сөзлер барды.
Адамлар гүндогардан гөчүп баряркалар, Шинар юрдунда бир дүзлүгиң үстүнден гелип, шол ерде месген тутдулар.
Олар бири-бирлерине: «Гелиң, керпич ясап, оны говы биширелиң» дийишдилер. Олар гурлушык үчин дашың ерине керпич, палчыгың ерине болса шепбик уландылар.
Соңра олар: «Ер йүзүне дагаман, өзүмизден бир ат галдырарымыз ялы гелиң, бир гала ве депеси гөге етип дуран минара гуралың» дийишдилер.
Реб ынсанларың гурян галасыны хем-де минарасыны гөрмек үчин ашак инди.
Реб: «Гөрсене, олар бир халк, оларың диллери-де бир. Бу оларың ниетиниң башлангыҗыдыр; олар инди өз гөвүнлерине гелен затларыны этмекден сакланмазлар.
Гелиң, ашак инелиң-де, бири-бириниң гепине дүшүнмез ялы, оларың дилини гарышдыралың» дийди.
Шейдип, Реб ынсанлары бүтин ер йүзүне даргатды; олар гала гурмаларыны бес этдилер
Шоңа гөрә-де шол гала Бабыл дийип ат дакылды, чүнки Реб шол ерде әхли ынсанларың дилини гарҗашдырып, олары бүтин ер йүзүне даргадыпды
Babyl minarasy (Latin alphabet)
Tutuş ýer ýüzünde bir dil, birmeňzeş sözler bardy.
Adamlar gündogardan göçüp barýarkalar, Şinar ýurdunda bir düzlügiň üstünden gelip, şol ýerde mesgen tutdular.
Olar biri-birlerine: «Geliň, kerpiç ýasap, ony gowy bişireliň» diýişdiler. Olar gurluşyk üçin daşyň ýerine kerpiç, palçygyň ýerine bolsa şepbik ulandylar.
Soňra olar: «Ýer ýüzüne dagaman, özümizden bir at galdyrarymyz ýaly geliň, bir gala we depesi göge ýetip duran minara guralyň» diýişdiler.
Reb ynsanlaryň gurýan galasyny hem-de minarasyny görmek üçin aşak indi.
Reb: «Görsene, olar bir halk, olaryň dilleri-de bir. Bu olaryň niýetiniň başlangyjydyr; olar indi öz göwünlerine gelen zatlaryny etmekden saklanmazlar.
Geliň, aşak ineliň-de, biri-biriniň gepine düşünmez ýaly, olaryň dilini garyşdyralyň» diýdi.
Şeýdip, Reb ynsanlary bütin ýer ýüzüne dargatdy; olar gala gurmalaryny bes etdiler.
Şoňa görä-de şol gala Babyl diýip at dakyldy, çünki Reb şol ýerde ähli ynsanlaryň dilini garjaşdyryp, olary bütin ýer ýüzüne dargadypdy.
Source: http://ibt.org.ru/english/bible/tkm.htm
Information about Turkmen | Phrases | Numbers | Tower of Babel | Learning materials
Tower of Babel in Turkic languages
Altay, Azeri, Bashkir, Chuvash, Crimean Tatar, Karakalpak, Kazakh, Kumyk, Kyrgyz, Nogai, Tatar, Turkish, Turkmen, Tuvan, Uyghur, Uzbek, Yakut
Other Tower of Babel translations
By language | By language family
---
If you need to type in many different languages, the Q International Keyboard can help. It enables you to type almost any language that uses the Latin, Cyrillic or Greek alphabets, and is free.
If you like this site and find it useful, you can support it by making a donation via PayPal or Patreon, or by contributing in other ways. Omniglot is how I make my living.
Note: all links on this site to Amazon.com
, Amazon.co.uk
and Amazon.fr
are affiliate links. This means I earn a commission if you click on any of them and buy something. So by clicking on these links you can help to support this site.