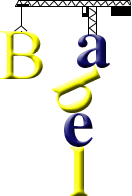 The Tower of Babel (Genesis 11: 1-9)
Алтай тили (Altay)
Ол ӧӥдӧ бастыра телекеӥде бирлик тил, бир тӱҥеӥ сӧстӧр болгон.
Улус кӱнчыгыштаҥ барып, Шинар ороондогы ӧзӧккӧ једип, анда јуртай берген.
— Той балкаштаҥ кирпичтер эдип, отло ӧртӧп кадыралыктар — деп, олор бой-бойлорына айдышкан. Анайып, таштыҥ ордына кирпич, череттиҥ ордына сары тӧгӧт тузаланып баштагандар.
— Теҥериге јетире столмолу кала тудалы — олор јӧптӧшкӧндӧр. — Анайып, ады-јолысты маккка чыгарып, јер сайын тарап-таркап, изис јок болуп, јылыйып калбазыс.
Улустыҥ тудуп јаткан калазын ла столмозын кӧрӧргӧ, Кайракан теҥеридеҥ тӱшкен.
Кайракан: — Бир калык бу, ончозыныҥ тили јаҥыс — деген. — Олор эдетен керегин баштап алган, эдеӥин дегенин этпегенче, токтобос.
Олорго тӱжӱп, тили-оозын колыштырып, эрмек-куучынын аайлашпас эдип койоктор.
Оноортынаҥ Кайракан улусты јер сайын таркадып ийген, кала јетире тудубай артып калган.
Оныҥ учун бу кала Вавилон деп адалган — анда Кайракан јер-ӱс-тиниҥ ончо улузыныҥ тилин колыштырып, јер сайын таркаткан.
Source: Моисейдиҥ баштапкы бичиги. Башталганы (Genesis). Россиядагы библей биригӱ. Санкт-Петербург – 2012.
Contributed by Wolfgang Kuhl
Transliteration
Ol öcdö bastıra telekecde birlik til, bir tüñec söstör bolgon.
Ulus künçıgıştañ barıp, Şinar oroondogı özökkö cedip, anda curtay bergen.
— Toy balkaştañ kirpiçter edip, otlo örtöp kadıralıktar — dep, olor boy-boylorına aydışkan. Anayıp, taştıñ ordına kırpıç, çerettıñ ordına sarı tögöt tuzalanıp baştagandar.
— Teñerige cetire stolmolu kala tudalı — olor cöptöşköndör. — Anayıp, adı-colıstı makkka çıgarıp, cer sayın tarap-tarkap, izis cok bolup, cılıyıp kalbazıs.
Ulustıñ tudup catkan kalazın la stolmozın körörgö, Kayrakan teñerideñ tüşken.
Kayrakan: — Bir kalık bu, onçozınıñ tili cañıs — degen. — Olor edeten keregin baştap algan, edecin degenin etpegençe, totkobos.
Olorgo tüjüp, tili-oozın kolıştırıp, ermek-kuuçının aaylaşpas edip koyoktor.
Onoortınañ Kayrakan ulustı cer sayın tarkadıp iygen, kala cetire tudubay artıp kalgan.
Onıñ uçun bu kala Vavilon dep adalgan — anda Kayrakan cer-üs-tiniñ onço uluzınıñ tilin kolıştırıp, cer sayın tarkatkan.
Transliteration by Daniel Parker
Information about Altay | Phrases | Numbers | Numbers (Teleut dialect) | Numbers (Tubalar dialect) | Tower of Babel
Tower of Babel in Turkic languages
Altay, Azeri, Bashkir, Chuvash, Crimean Tatar, Karakalpak, Kazakh, Kumyk, Kyrgyz, Nogai, Tatar, Turkish, Turkmen, Tuvan, Uyghur, Uzbek, Yakut
Other Tower of Babel translations
By language | By language family
---
If you need to type in many different languages, the Q International Keyboard can help. It enables you to type almost any language that uses the Latin, Cyrillic or Greek alphabets, and is free.
If you like this site and find it useful, you can support it by making a donation via PayPal or Patreon, or by contributing in other ways. Omniglot is how I make my living.
Note: all links on this site to Amazon.com
, Amazon.co.uk
and Amazon.fr
are affiliate links. This means I earn a commission if you click on any of them and buy something. So by clicking on these links you can help to support this site.