The Tower of Babel (Genesis 11: 1-9)
қарақалпақ тили (Karakalpak)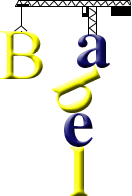 Бабыл минарасы
Сол ўақыт­лары дүнья­дағы бар­лық адам­лар бир тил­де сөй­леп, бир­дей сөз­лер­ди қол­лана­туғын еди.
Адам­лар шығыс­қа қарай көшип бара­тырып, Шынар жерин­де бир тегис­лик тап­ты ҳәм сол жер­ге орна­лас­ты.
Адам­лар бир-бири­не: «Келиң­лер, ылай­дан гер­биш қуй­ып, олар­ды отқа писи­рейик», - деди. Олар тас­тың орны­на гер­биш, ылай­дың орны­на қара май қол­лан­ды.
Соң­ынан олар: «Өзи­миз­ге бир қала қурай­ық ҳәм төбе­си аспан­ға жете­туғын бир мина­ра тик­леп, даң­қымыз­ды шыға­рай­ық. Сон­да биз­лер жер жүзи­не тарап кет­пей­миз», - дес­ти.
Жарат­қан Ийе адам­лар қурып атыр­ған қала­ны ҳәм мина­раны көриў ушын төмен­ге түс­ти
ҳәм былай деди: «Мине, олар бир халық болып, бир тил­де сөй­леген­лик­тен, усы исти бас­лады. Енди олар­дың ойла­ған ойын иске асы­рыў­ға ҳеш нәр­се кесент етпей­ди.
Қәне, төмен­ге түсе­йик, олар бир-бирин түсин­бей қалыўы ушын, тил­лерин ара­лас­тырып тас­лай­ық».
Солай етип, Жарат­қан Ийе олар­ды жер жүзи­не тара­тып жибе­рип, қала қуры­лысын тоқ­татып тас­лады.
Сон­лық­тан бул қала Бабыл деп атал­ды. Себе­би Жарат­қан Ийе сол жер­де бар­лық адам­лар­дың тил­лерин ара­лас­тырып тас­лап, олар­ды пүт­кил жер жүзи­не тара­тып жибер­ген еди.
Babyl minarasy (Transliteration)
Sol waqyt-lary du'n'ja-dag'y bar-lyq adam-lar bir til-de so'y-lep, bir-dey so'z-ler-di qol-lana-tug'yn edi.
Adam-lar shyg'ys-qa qaray ko'ship bara-tyryp, Shynar jerin-de bir tegis-lik tap-ty ha'm sol jer-ge orna-las-ty.
Adam-lar bir-biri-ne: «Kelin'-ler, ylay-dan ger-bish quy-yp, olar-dy otqa pisi-reyik», - dedi. ?lar tas-tyn' orny-na ger-bish, ylay-dyn' orny-na qara may qol-lan-dy.
Son'-ynan olar: «O'zi-miz-ge bir qala quray-yq ha'm to'be-si aspan-g'a jete-tug'yn bir mina-ra tik-lep, dan'-qymyz-dy shyg'a-ray-yq. Son-da biz-ler jer ju'zi-ne tarap ket-pey-miz», - des-ti.
Jarat-qan Iye adam-lar quryp atyr-g'an qala-ny ha'm mina-rany ko'riw ushyn to'men-ge tu's-ti
ha'm bylay dedi: «Mine, olar bir xalyq bolyp, bir til-de so'y-legen-lik-ten, usy isti bas-lady. Endi olar-dyn' oyla-g'an oyyn iske asy-ryw-g'a hesh na'r-se kesent etpey-di.
Qa'ne, to'men-ge tu'se-yik, olar bir-birin tu'sin-bey qalywy ushyn, til-lerin ara-las-tyryp tas-lay-yq».
Solay etip, Jarat-qan Iye olar-dy jer ju'zi-ne tara-typ jibe-rip, qala qury-lysyn toq-tatyp tas-lady.
Son-lyq-tan bul qala Babyl dep atal-dy. Sebe-bi Jarat-qan Iye sol jer-de bar-lyq adam-lar-dyn' til-lerin ara-las-tyryp tas-lap, olar-dy pu't-kil jer ju'zi-ne tara-typ jiber-gen edi.
Information about Karakalpak | Numbers | Tower of Babel
Tower of Babel in Turkic languages
Altay, Azeri, Bashkir, Chuvash, Crimean Tatar, Gagauz, Karakalpak, Kazakh, Kumyk, Kyrgyz, Nogai, Tatar, Turkish, Turkmen, Tuvan, Uyghur, Uzbek, Yakut
Other Tower of Babel translations
By language | By language family
[top]
---

Why not share this page:

If you like this site and find it useful, you can support it by making a donation via PayPal or Patreon, or by contributing in other ways. Omniglot is how I make my living.
Note: all links on this site to Amazon.com
, Amazon.co.uk
and Amazon.fr
are affiliate links. This means I earn a commission if you click on any of them and buy something. So by clicking on these links you can help to support this site.
Get a 30-day Free Trial of Amazon Prime (UK)
If you're looking for home or car insurance in the UK, why not try Policy Expert?
[top]