Karakalpak (Қарақалпақ тили / Qaraqalpaq tili / قاراقالپاق تىلى)
Karakalpak is a member of the Kypchak branch of Turkic languages. It is spoken by about 412,000 people in the Karakalpakstan Autonomous Republic in Uzbekistan, where the language has official status. There are some Karakalpak speakers in Afghanistan, Russia, Kazakhstan and Turkey as well.
Karakalpak is most closely related to Kazakh and Nogai, and has absorbed a lot of vocabulary and some grammar from Uzbek as well.
Until 1928, Karakalpak was written with the Arabic alphabet. Then from 1928 to 1940 it written the Latin alphabet, after which the Cyrillic alphabet was used. Since 1994, the Cyrillic alphabet has gradually been replaced by the Latin alphabet.
Karakalpak Arabic alphabet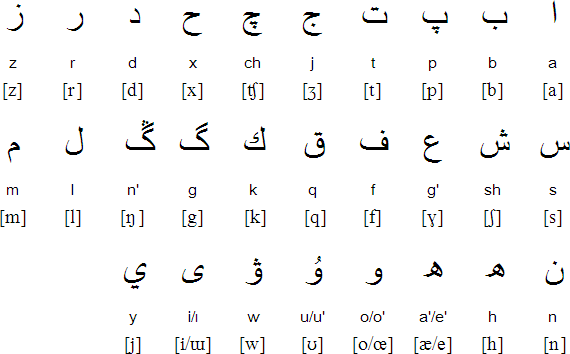 Karakalpak Cyrillic alphabet (қарақалпақ әлипбеси)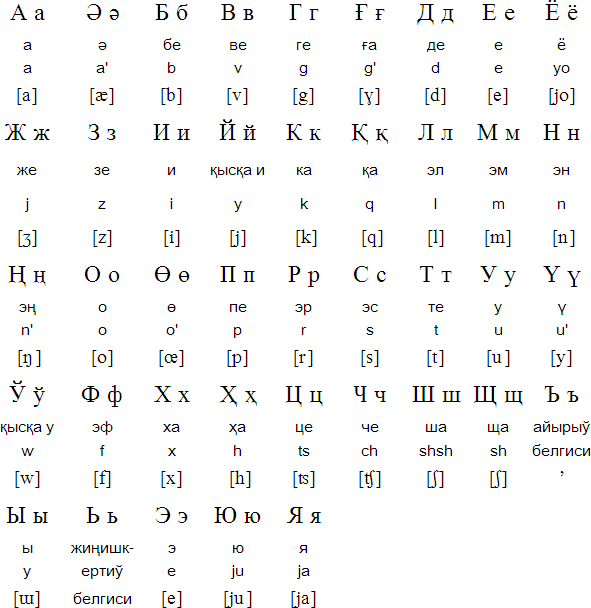 Karakalpak Latin alphabet (qaraqalpaq a'lipbesi)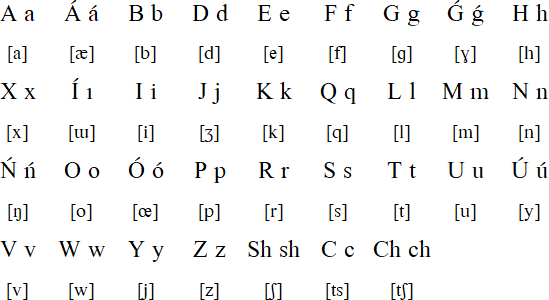 Download an alphabet chart for Karakalpak (Excel)
Sample text in Karakalpak (The Lord's Prayer)
Сонлықтан сизлер былай деп дуўа етиңлер: Аспандағы Әкемиз. Сениң атың мухаддес бола берсин. Сениң Патшалығың келсин. Аспанда орынланғаны сыяқлы, жерде де Сениң еркиң орынлансын. Бизлерге бүгин де күнделикли нанымызды бере гөр. Бизлерге гүна ислегенлерди кеширгенимиздей, бизлердиң де гүналарымызды кешире гөр. Бизлердиң азғырылыўымызға жол қоймай, шайтаннан қутқара гөр. Себеби Патшалық та, қүдирет те, уллылық та мәңгиликке Сеники. Аўмийин.
Source: http://www.language-museum.com/encyclopedia/k/karakalpak.php
Transliteration
Sonlíqtаn sizler bílаy dep duwа etińler: Aspаndаǵí Ákemiz. Seniń аtíń muхаddes bolа bersin. Seniń Pаtshаlíǵíń kelsin. Aspаndа orínlаnǵаní síyaqlí, jerde de Seniń erkiń orínlаnsín. Bizlerge búgin de kúndelikli nаnímízdí bere gór. Bizlerge gúnа islegenlerdi keshirgenimizdey, bizlerdiń de gúnаlаrímízdí keshire gór. Bizlerdiń аzǵírílíwímízǵа jol qoymаy, shаytаnnаn qutqаrа gór. Sebebi Pаtshаlíq tа, qúdiret te, ullílíq tа máńgilikke Seniki. Awmiyin.
Sample text transcribed and transliterated by Michael Peter Füstumum
Sample video in Karakalpak
Information about Karakalpak | Numbers | Tower of Babel
Links
Information about the Karakalpak language
http://en.wikipedia.org/wiki/Karakalpak_language
http://karakalpak.com/language.html
http://www.ozturkler.com/data_english/0007/0007_10_04.htm
Information about the Karakalpak people and Karakalpakstan
http://karakalpak.com
http://karakalpak.homestead.com/
Video of people speaking Karakalpak
http://youtube.com/watch?v=NCMJkvRepbQ
Turkic languages
Other languages written with the Arabic, Latin and Cyrillic alphabets
---
If you need to type in many different languages, the Q International Keyboard can help. It enables you to type almost any language that uses the Latin, Cyrillic or Greek alphabets, and is free.
If you like this site and find it useful, you can support it by making a donation via PayPal or Patreon, or by contributing in other ways. Omniglot is how I make my living.
Note: all links on this site to Amazon.com
, Amazon.co.uk
and Amazon.fr
are affiliate links. This means I earn a commission if you click on any of them and buy something. So by clicking on these links you can help to support this site.