Spanish (español/castellano)
Spanish is a Romance language with approximately 470 million speakers, 410 of whom speak it as a first language, while the remainder speak it as a second language. A significant number of people also speak Spanish as a foreign language. Spanish is spoken in Spain and 22 other countries including: Andorra, Argentina, Belize, Bolivia, Cayman Islands, Chile, Colombia, Costa Rica, Cuba, Dominican Republic, Ecuador, El Salvador, Equatorial Guinea, Guatemala, Honduras, Mexico, Nicaragua, Panama, Paraguay, Peru, Uruguay, the USA and Venezuela
Spanish at a glance
Native names: español, castellano
Linguistic affliation: Indo-Europea, Italic, Romance, Western Romance, Ibero-Romance, West-Iberian, Castilian
Number of speakers: c. 470 million
Spoken in: Spain, Latin America, USA, Equatorial Guinea
First written: 11th century
Writing system: Latin script
Status: official language in Argentina, Bolivia, Colombia, Costa Rica, Cuba, Chile, Dominican Republic, Ecuador, El Salvador, Equatorial Guinea, Guatemala, Honduras, Mexico, Nicaragua, Panama, Paraguay, Peru, Spain, Uruguay, Venezuela
Spanish first started to appear in writing in the form of notes and glosses in Latin religious texts, the Glosas Emilianenses, dating from the 11th century. During the 12th century, law codes (Fueros) were being translated into Spanish. Spanish prose flowered during the reign of King Alfonso X the Wise of Castile (1252-84), who in addition to being the king and a poet, also found time to write an encyclopaedia in Spanish called Las Partidas, which contains laws, chronicles, recipes, and rules for hunting, chess and card games. The first Spanish grammar, by Antonio de Nebrija, and the first dictionaries were published during the 15th and 16th centuries.
In Spain this language is generally called español (Spanish) when contrasting it with languages of other countries, such as French and English, but it is called castellano (Castilian, the language of the Castile region) when contrasting it with other languages spoken in Spain, such as Galician, Basque, and Catalan.
Some philologists use Castilian only when speaking of the language spoken in Castile during the Middle Ages, stating that it is preferable to use Spanish for its modern form. The subdialect of Spanish spoken in northern parts of modern day Castile is also called Castilian sometimes, and differs from those of other regions of Spain, however the Castilian dialect is conventionally considered in Spain to be the same as standard Spanish.
The name castellano is widely used for the language in Latin America. Some Spanish speakers consider castellano a generic term with no political or ideological links, much as "Spanish" in English.
Spanish alphabet (alfabeto español / el abecedario)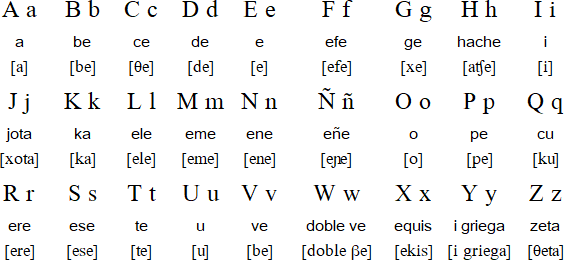 Ch (che) and Ll (elle) are also considered letters of the Spanish alphabet, however in 2010 the Royal Spanish Academy (RAE) decreed that these letters would no longer be treated as separate letters in dictionaries.
Recordings of the Spanish alphabet
Daniel Callejas Sevilla from Spain
René Alejandro Zaldívar Gallegos from Mexico
Pronunciation of European Spanish
Notes
b = [β] between vowels, [b] elsewhere
c = [θ] before i or e, [k] elsewhere
d = [ð] between vowels, [d] elsewhere
g = [x] or [χ] before i or e, [g] or [ɣ] elsewhere
gu = [g] before i or e, [gw] elsewhere
gü only appears before i or e
n = [ŋ] before g, x and k, [n] elsewhere. At the ends of words n = [ŋ] or [n]
r = [ɾ] between vowels and in consonant clusters such as br, pr and tr, [r] elsewhere
At the ends of words and syllables s often not pronounced, e.g. peces = /'peθes/ in northern Spain, /'peθeh/ in central Spain, /'peseh/ in southern Spain, and /'pesε/ in the southeast of Spain.
v = [β] between vowels, [b] elsewhere
w appears only in loanwords
Thanks to Francisco Peña Blas for corrections to this pronunciation guide, with additional information from Angel Castaño
Pronunciation of Spanish in Latin America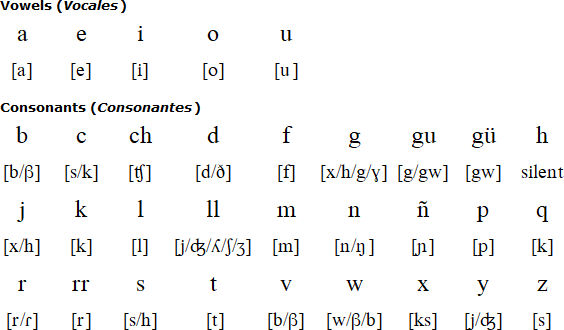 Notes
Vowels are the same as European Spanish.
c = [s] before i or e, but [k] elsewhere
In some varieties of Caribbean and Chilean Spanish, ch = [ʃ], especially in Panamanian Spanish and in southern Chile. In northern Chile ch = [ts].
g = [x] (or [h] in some countries, or [χ] in Peru) before i or e, [g] or [ɣ] elsewhere
gu = [g] before i or e, but [gw] elsewhere
ll = [j] or [dʐ] in most places, though the original pronunciation of [ʎ] is still used in some areas. ll = [ʃ] or [ʒ] in Argentina
n = [ŋ] before g, e.g. tengo (I have), [n] elsewhere. In the Caribbean dialects, n can also be [ŋ] at the end of a syllable.
r = [ɾ] between vowels, [r] elsewhere. At the end of syllables (not followed by a vowel) [l] in the Caribbean dialects; occasionally [ɹ] in Puerto Rico.
rr = [χ] or [ʀ]in Puerto Rico.
s = [h] at the ends of words and syllables in Argentina and Chile, e.g. peces = /'peseh/. Mainly in Cuba and northern Colombia it is not pronounced in that position, e.g. peces = /'pesε/
x = [s] at the beginning of words, [ks] elsewhere. In words borrowed from Nahuatl, Mayan or other indigenous languages of Mexico, x = [ʃ] or [s]. X is sometimes replaced with J, especially in proper nouns, e.g. Ximena / Jimena.
y = [i] at the end of syllables, such as hay, buey and muy, [j] as a consonant or semiconsonant. In parts of Argentina y = [ʒ̊] or [ʃ]. In Paraguay y = [dʒ].
k and w appear mainly in loan words
Download alphabet charts for Spanish (Excel)
Information on the pronunciation of Spanish in Latin America provided by Alejandro P. Estrada, with corrections and additional information from Angel Castaño, Samir Castro Zapata and Thomas Sanchez
Sample text in Spanish
Todos los seres humanos nacen libres e iguales en dignidad y derechos y, dotados como están de razón y conciencia, deben comportarse fraternalmente los unos con los otros.
Recordings of this text
Margarita Gracia Sanz from Valencia
Alejandro García-Aragón from Cádiz, Andalucía
René Alejandro Zaldívar Gallegos from Mexico
Translation
All human beings are born free and equal in dignity and rights. They are endowed with reason and conscience and should act towards one another in a spirit of brotherhood.
(Article 1 of the Universal Declaration of Human Rights)
Sample videos in Spanish
(Spain)
(Mexico)
(Uruguay)
(Honduras)
(Puerto Rica)
(Argentina)
Information about Spanish | Useful Phrases | Silly Phrases | Idioms | Family words | Time | Weather | Tongue twisters | Video lessons | Tower of Babel | Articles | Links | Learning materials | My Spanish learning adventures | My podcast about Spanish | Learn Spanish through stories
Links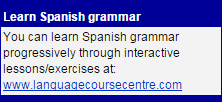 Information about the Spanish language
http://en.wikipedia.org/wiki/Spanish_language
http://spanish.about.com/
http://www.spanishlanguage.co.uk/
https://www.clozemaster.com/blog/topics/language-learning/learn-spanish/
Spanish Classes in Los Angeles |
Lyceum Español - a different way to learn Spanish in Spain
- Learn Spanish online with SpanishPod101
- Spanish Uncovered - Learn Spanish Through the Power of Story

- Say Something In Spanish
- Learn Spanish with Glossika
- Learn Spanish faster
- Spanish Con Salsa
- Learn Dominican Spanish
- Learn Cuban Spanish
- Find Spanish tutors on Lingua Linkup - Learn Spanish now at Rocket Languages!
More links to Spanish language resources
Romance languages
Aragonese, Aranese, Aromanian, Asturian, Auvergnat, Catalan, Corsican, Dalmatian, Emilian-Romagnol, Extremaduran, Fala, Franco-Provençal, French, Friulian, Galician, Gallo, Gascon, Genoese, Guernésiais, Istro-Romanian, Istriot, Italian, Jèrriais, Ladino, Ladin, Ligurian, Limousin, Lombard, Lorrain, Megleno-Romanian, Mirandese, Moldovan, Monégasque, Mozarabic, Neapolitan, Occitan, Picard, Piedmontese, Portuguese, Romanian, Romansh, Sardinian, Sicilian, Spanish, Venetian, Walloon
Languages written with the Latin alphabet
Page last modified: 19.05.21
---

Why not share this page:
If you need to type in many different languages, the Q International Keyboard can help. It enables you to type almost any language that uses the Latin, Cyrillic or Greek alphabets, and is free.
If you like this site and find it useful, you can support it by making a donation via PayPal or Patreon, or by contributing in other ways. Omniglot is how I make my living.

Note: all links on this site to Amazon.com
, Amazon.co.uk
and Amazon.fr
are affiliate links. This means I earn a commission if you click on any of them and buy something. So by clicking on these links you can help to support this site.