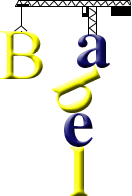 The Tower of Babel (Genesis 11: 1-9)
Беларуская мова (Belarusian)
На ўсёй зямлі была адна мова і адна гаворка.
Рушыўшы з усходу, яны знайшлі ў зямлі Сэнаар раўніну і пасяліліся там.
І сказалі адно аднаму: наробім цэглы і абпалім агнём. І стала ў іх цэгла замест камянёў, а земляная смала замест вапны.
І сказалі яны: збудуем сабе горад і вежу, вышынёю да нябёсаў, і зробім сабе імя, перш чым расьсеемся па ўлоньні ўсёй зямлі.
І сышоў Гасподзь паглядзець горад і вежу, што будавалі сыны людзкія.
І сказаў Гасподзь: вось, адзін народ, і адна ў іх мова; і вось, што пачалі яны рабіць, і не адстануць ад таго, што задумалі рабіць;
сыдзем жа і зьмяшаем там мову іхнюю, так каб адзін не разумеў гаворкі другога.
І расьсеяў іх Гасподзь адтуль па паверхні ўсёй зямлі; і яны перасталі будаваць горад.
Таму дадзена яму імя: Вавілон, бо так зьмяшаў Гасподзь мову ўсёй зямлі, і адтуль расьсеяў іх Гасподзь па ўсёй зямлі.
Transliteration
Na ŭsioj ziamli była adna mova i adna havorka.
Rušyŭšy z uschodu, jany znajšli ŭ ziamli Senaar raŭninu i pasialilisia tam.
I skazali adno adnamu: narobim cehły i abpalim ahniom. I stała ŭ ich cehła zamiest kamianioŭ, a ziemlanaja smała zamiest vapny.
I skazali jany: zbudujem sabie horad i viežu, vyšynioju da niabiosaŭ, i zrobim sabie imia, pierš čym raśsiejemsia pa ŭłońni ŭsioj ziamli.
I syšoŭ Haspodź pahladzieć horad i viežu, što budavali syny ludzkija.
I skazaŭ Haspodź: voś, adzin narod, i adna ŭ ich mova; i voś, što pačali jany rabić, i nie adstanuć ad taho, što zadumali rabić;
sydziem ža i źmiašajem tam movu ichniuju, tak kab adzin nie razumieŭ havorki druhoha.
I raśsiejaŭ ich Haspodź adtul pa pavierchni ŭsioj ziamli; i jany pierastali budavać horad.
Tamu dadziena jamu imia: Vaviłon, bo tak źmiašaŭ Haspodź movu ŭsioj ziamli, i adtul raśsiejaŭ ich Haspodź pa ŭsioj ziamli.
Hear a recording of this text by Александр Баранов
Belarusian learning software
http://www.linguashop.com/belarusian-courses
Information about Belarusian | Phrases | Numbers | Tower of Babel
Belarusian language resources on Amazon
Learn Belarusian with Glossika
Tower of Babel in Slavic languages
Belarusian, Bosnian, Bulgarian, Church Slavonic, Croatian, Czech, Macedonian, Polish, Russian, (Old) Ruthenian, Serbian, Slovak, Slovenian, Sorbian, Ukrainian
Other Tower of Babel translations
By language | By language family
[top]
---

Why not share this page:

If you like this site and find it useful, you can support it by making a donation via PayPal or Patreon, or by contributing in other ways. Omniglot is how I make my living.
Note: all links on this site to Amazon.com
, Amazon.co.uk
and Amazon.fr
are affiliate links. This means I earn a commission if you click on any of them and buy something. So by clicking on these links you can help to support this site.
Get a 30-day Free Trial of Amazon Prime (UK)
If you're looking for home or car insurance in the UK, why not try Policy Expert?
[top]