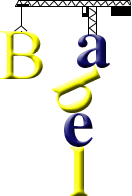 The Tower of Babel (Genesis 11: 1-9)
Русский (Russian)
This is a version of this text in the pre-1917 reform orthography, from imgur (sent in by Corey Murray).
На всей землѣ былъ одинъ языкъ и одно нарѣчіе.
Двинувшись съ Востока, они нашли въ землѣ Сеннааръ равнину и поселились тамъ.
И сказали другъ другу: надѣлаемъ кирпичей, и обожжемъ огнемъ; и стали у нихъ кирпичи вмѣсто камней, а земляная смола вмѣсто извести.
И сказали они: построимъ себѣ городъ и башню, высотою до небесъ; и сдѣлаемъ себѣ имя, прежде нежели разсѣемся по лицу всей земли.
И сошелъ Господь посмотрѣть городъ и башню, которые строили сыны человѣческіе.
И сказалъ Господь: вотъ, одинъ народъ, и одинъ у всѣхъ языкъ; и вотъ что начали они дѣлать, и не отстанутъ они отъ того, что задумали дѣлать.
Сойдемъ же и смѣшаемъ тамъ языкъ ихъ, такъ чтобы одинъ не понималъ рѣчи другаго.
И разсѣялъ ихъ Господь оттуда по всей землѣ; и они перестали строить городъ (и башню).
Посему дано ему имя: Вавилонъ; ибо тамъ смѣшалъ Господь языкъ всей земли, и оттуда разсѣялъ ихъ Господь по всей землѣ.
This is a version of modern Russian orthography.
На всей земле был один язык и одно наречие.
Двинувшись с востока, они нашли в земле Сеннаар равнину и поселились там.
И сказали друг другу: наделаем кирпичей и обожжем огнем. И стали у них кирпичи вместо камней, а земляная смола вместо извести.
И сказали они: построим себе город и башню, высотою до небес, и сделаем себе имя, прежде нежели рассеемся по лицу всей земли.
И сошел Господь посмотреть город и башню, которые строили сыны человеческие.
И сказал Господь: вот, один народ, и один у всех язык; и вот что начали они делать, и не отстанут они от того, что задумали делать;
сойдем же и смешаем там язык их, так чтобы один не понимал речи другого.
И рассеял их Господь оттуда по всей земле; и они перестали строить город.
Посему дано ему имя: Вавилон, ибо там смешал Господь язык всей земли, и оттуда рассеял их Господь по всей земле.
Transliteration
Na vsej zemlje Byl odin jazyk i odno narječje.
Dvinuvšis' s vostoka, oni našli v zjemlje Sjennaar ravninu i poselilis' tam.
I skazali drug drugu: nadjelajem kirpičjej i obožžem ognjem. I stali u inh kirpiči vmjesto kamnjej, a zjemljanaja smola vmjesto izvjesti.
I skazali oni: postroim sjebje gorod i bašny, vysotoju do njebjes, i sdjelajem cjebje imja, preždje nježjeli rassjejemsja po licu vsej zjemli.
I sošjel Gospod' posmotrjet' gorod i bašnju, kotoryje stroili syny čjelovječjeskije.
I skazal Gospod': vot, odin narod, i odin u vsjeh jazyk; i vot čto načali oni delat', i nje otstanut oni ot togo, čto zadumali djelat';
sojdjem žje i smješajem tam jazyk ih, tak čtoby odin nje ponimal reči drugogo.
I rassjejal ih Gospod' ottuda po vsej zjemlje; i oni pjerjestali stroit' gorod.
Posjemu dano jemu imja: Vavilon, ibo tam smješal Gospod' jazyk vsjej zjemli, i ottuda rassjejal ih Gospod' po vsjej zjemlje.
Hear a recording of this text by Александр Баранов
Information about Russian | Useful phrases | Silly phrases | Numbers | Colours | Time | Family words | Terms of endearment | Weather | Idioms | Tongue twisters | Tower of Babel | Articles | Links | Learning materials
Tower of Babel in Slavic languages
Belarusian, Bosnian, Bulgarian, Church Slavonic, Croatian, Czech, Macedonian, Polish, Russian, (Old) Ruthenian, Serbian, Slovak, Slovenian, Sorbian, Ukrainian
Other Tower of Babel translations
By language | By language family
---
If you need to type in many different languages, the Q International Keyboard can help. It enables you to type almost any language that uses the Latin, Cyrillic or Greek alphabets, and is free.
If you like this site and find it useful, you can support it by making a donation via PayPal or Patreon, or by contributing in other ways. Omniglot is how I make my living.
Note: all links on this site to Amazon.com
, Amazon.co.uk
and Amazon.fr
are affiliate links. This means I earn a commission if you click on any of them and buy something. So by clicking on these links you can help to support this site.